Christmas deliveries to be affected by ongoing Royal Mail strike actions
The Christmas post faces major disruptions after postal workers announced strikes set to continue.
The Communication Workers Union (CWU) has called its members to take part in a national strike action as an agreement with Royal Mail is still to be reached.
The postal workers strike action is over pay and conditions. The Royal Mail offered a 2% pay deal, which the CWU says was unagreed to by its members.
A CWU spokesperson said: "This is at a time when RPI inflation is currently running at 11.8% and when Royal Mail has announced Group profits of £758 million and when the company is paying out many millions to private shareholders.
"The pay dispute is not complicated. Our members are striking for a pay rise that fully addresses the current cost of living. Our members need it, our members deserve it – the company can afford it."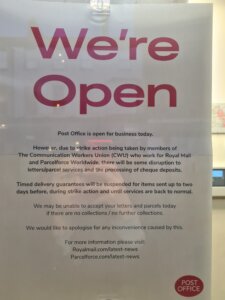 With the first strikes, between November 24 and 25 having affected the much-awaited Black Friday weekend, customers are now even more worried about the new wave of strikes which is announced to take place on November 30, December 01, 09, 11, 14, 15, 23 and 24, incorporating the busiest period of pre-Christmas deliveries.
However, CWU does not retaliate and fires back with a strong message towards the public via their Twitter page.
Everything King Charles says here is right.

This is why we cannot give in. This is what we are fighting for.

It is time for the British public to stand up and defend their postie.

We cannot and will not let the privateers destroy us or the service. #StandByYourPost pic.twitter.com/RT76jK5Isu

— The CWU (@CWUnews) November 27, 2022
CWU General Secretary Dave Ward said: "We are disappointed that instead of reaching a compromise to avoid major disruption, Royal Mail have chosen to pursue such an aggressive strategy.
"We will not accept that 115,000 Royal Mail workers – the people who kept us connected during the pandemic, and made millions in profit for bosses and shareholders – take such a devastating blow to their livelihoods.
"These proposals spell the end of Royal Mail as we know it, and its degradation from a national institution into an unreliable, Uber-style gig economy company."
A Royal Mail spokesperson replied: "We apologise for any inconvenience the CWU's industrial action is causing. We have well-developed contingency plans to ensure our customers are looked after, and minimise any delays to keep people, businesses and the country connected."
The Royal Mail has advised customers to:
Post items as early as possible in advance of the strike dates
Continue to post items at postboxes or Post Offices. However, collections will be less frequent on days when strike action is taking place.
Visit royalmail.com/latest-news for the latest detailed information on services.
Have you been affected by Christmas post strike action? Let us know @sparksunderland
---