Newcastle e-scooter trail should be shut down says disability campaigner
Written by Lewis McGarry on 6th March 2023
Safety concerns surrounding e-scooters in Newcastle has disability campaigner questioning the need for the scooters altogether.
Newcastle City Council has been trialling the Neuron rentable e-scooters since February 2021, a trial that has now been extended to May 2024.
Blindness campaigner Sarah Gayton visited Newcastle in February 2023 she was "shocked" by the conditions the scooters were found in.
Scooters had been "dumped" on pavements and in the way of pedestrian crossings making a potentially dangerous trip hazard for the blind, visually impaired as well as older or disabled pedestrians.
Different city, different e-scooters but same problems observed. Escooters left on pavements creating obstructions & trips hazards in #Newcastle. Escooters were seen knocked over & next to pedestrian crossings. Many with broken & damaged helmets. The trial needs to be shut down. pic.twitter.com/XYvHAAhwUa

— NFBUK (@NFBUK) February 12, 2023
Gayton said: "The trial has been operating for a long time and it is clear it has failed to protect the safety and accessibility of disabled pedestrians and it needs to be closed down immediately."
Neuron the company who make the scooters say they are "always looking for ways to further improve safety" they are in partnership with the Royal Society for Prevention of Accidents and "they regularly hold road safety campaigns aimed at promoting safer streets for all, especially people with visual impairments, wheelchair users and the elderly."
In response to the dumping of scooters in Newcastle, Neuron said: "We have recently introduced a new parking model in Newcastle where riders are required to park at a designated parking station to better integrate e-scooters in the city.
This is controlled by geofencing and riders also have to submit an end-of-trip photo to prove they are being compliant."
A Newcastle City Council spokesperson, said: "As part of our agreement to extend the trial with Neuron Mobility until May 2024, a number of changes have been made including the introduction of new technology to better control where the e-scooters are ridden and parked.
"We know that there have been concerns about some riders not using or parking the scooters in a safe, responsible or considerate manner and Neuron has worked closely with us, with local councillors and communities to understand and address these issues.
"Under the new arrangements, more than 100 designated parking stations have been created and riders will be required to finish their journey at one of these locations. This will help to avoid scooters being left blocking pavements or causing a hazard for people, especially those with a visual impairment.
"We would encourage anyone to report any issues with e-scooters to Neuron on 0191 917 4313 (24 hours).
"The Newcastle scheme is one of a number of similar trials taking place in areas across the country on behalf of the Government. The trials are being done to gather information and evidence to inform a national decision on whether e-scooters could become a legalised form of transport."
Gayton also found issues with the safety of the helmets provided with the scooters, saying: "When I started to look at the helmets it was very clear that a lot of the helmets were dented, cracked and broken. Some were completely disintegrated it was unbelievable what I was witnessing."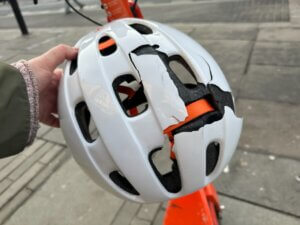 Neuron say: "While helmets are not required by law in the UK, we know wearing a helmet is one of the most important ways to stay safe."
With regards to the damage to the helmets they added: "In terms of maintenance we conduct safety checks every time we touch an e-scooter which can be multiple times per day as we relocate e-scooters to where they are needed most.
"Thankfully cases of vandalism are rare but it is impossible to eliminate vandalism entirely. If an e-scooter has been vandalised it is immediately immobilised and retrieved to the warehouse for evaluation and repair."
The safety concerns raised are not just for the equipment being provided but also for the standard of the riders using the scooters. Gayton while in Newcastle had a "frightening experience" after a scooter rider went past her on the pavement.
She said: "It is clear that pavement riding of rented e-scooters has not been resolved. How can anybody feel safe walking or using a mobility device feel safe with these e-scooters flying all over pedestrian spaces."
Neuron are working to tackle to reckless riding issues, saying: "In addition to our regular in-person ScootSafe events, Neuron is always looking for ways to further improve safety. In an industry first, Neuron launched ScootSafe Academy, an online riding school to make rider education more interactive and specifically target those who break the rules.
For example, those temporarily suspended or reported for unsafe riding or bad parking will be sent a warning along with targeted training modules specific to their violation."
---