SUNDERLAND STUDENTS TO RAISE FURTHER FUNDS FOR EARTHQUAKE RELIEF
Written by Liam Charlton on 2nd March 2023
Students at the University of Sunderland are hosting an event to raise money for victims of the Turkey and Syria earthquakes.
Sunderland's Islamic Society (ISOC) are holding a 'Cup of Kindness' event at CitySpace on the University's Chester Road campus on March 3.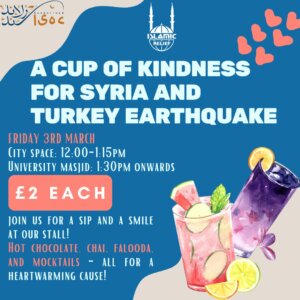 This is the second fundraiser organised by students in response to the devastating earthquakes that struck Turkey and Syria last month. 
On February 10, the ISOC held a chai and bake sale, raising £3247 in a matter of hours. 
Zara Bashir, president of the ISOC, said: "On the day we managed to raise an amazing amount of £3247 which could not have been done without the help of all those who donated either with money or sweet treats – the response was amazing and it shows how generous people are."
The 'Cup of Kindness' event is open to everyone from 12pm to 1.15pm in CitySpace, before moving on to the University masjid and continuing there from 1.30pm. 
The fundraisers are in aid of victims of the earthquakes in Turkey and Syria last month which claimed 51,000 lives to date. 
Bashir said: "Following the devastating earthquakes in Turkey and Syria and the horrific aftermath on the ground, hundreds of thousands are in dire need of essential supplies, medical supplies, food, blankets, and heating materials.
"Upon hearing this, our Islamic society immediately began organising fundraising events to aid the international emergency appeals as much as we could."
For more information or to donate visit https://www.justgiving.com/fundraising/islamicreliefnortheastandyorkshire
---