Catching the WAVE: WAVES Review
Written by Peter Doherty on 7th November 2022
The second edition of the WAVES festival took place in Sunderland over the weekend. A great occasion for the residents of Sunderland to catch up-and-coming local acts as well as acts from further afield. It's always a lovely occasion when the community get a chance to see their hometown talents blossom in front of their very eyes.

Taking place over multiple venues in Sunderland including The Fire Station, Independent, The Peacock, The Ship Isis, The Bunker and Live Lounge, WAVES quite literally takes the city by storm in a puzzle-like, catch-them-if-you-can kind of fashion. However, unlike a larger festival, attendees can make their way around with relative ease due to the close-knit nature of Sunderland's music scene.

Family-friendly events at Pop Recs were also to be had for the younger crowd aged up to nine years. Activities such as interactive gigs and arts and crafts where the attendees can create their musical instrument and festival merchandise of choice took place.

A wet Saturday morning welcomed the people of Sunderland and surrounding areas to WAVES – no need to worry though, the rain adds a layer to the proceedings; pavements and pathways glisten in a way that resembles a futuristic sheen. The rain had somewhat subsided by 11am. Though it threatened, spat and pattered throughout the day.

You'll also find that when people settle down for a gig they're in a better mood as they've overcome a battle of sorts with the pitter-patter Gods themselves.

The Fire Station was the place where tickets were exchanged for the coveted wristband which gifted access to all the venues taking part in the festival.

THE LAKE POETS

My own personal experience with WAVES Fest 2022 began a little after 2pm in The Live Lounge where Sunderland's The Lake Poets took to stage – one man, one guitar. A semi-seated affair found attendees in a laid-back and lounge-like manner – it is the Live Lounge after all.

"Lovely to see you all. Thanks for supporting the WAVES festival. You've got a great day ahead of you. This is a song called Window Sill." The Lake Poet's shimmering jingle jangle got underway. There's a fierceness underneath the soft sound.

'This songs about a place I might get to go to soon, it's not too far away. This is a song called Edinburgh."

The red-tinted setting of the Live Lounge proved fitting for the The Lake Poets fiery and ever-emotional undertones.

"I don't play this song in certain places. Especially down south. This is a song called City by the Sea" – an ode to Sunderland.
"I'm gonna finish with a song you might know. Depending where you're from it's a comedy or a tragedy. This is called Shipyard." You can find this track featured as the intro song to the Sunderland 'Til I Die Netflix documentary series.

The crowd fit in to the aesthetically red-room with a more than warm response.

HIVEMIND

2.30pm found me down the road at Independent as Hivemind, another act from Sunderland, provided a sea-change in mood and energy. Quite anthemic and heavily groove-based, their tight rhythm section borders on disco at times. Fuelled by the funk, Hivemind blend a punk aesthetic and sound with a funk and disco feel – this will sound weird, but trust me it works.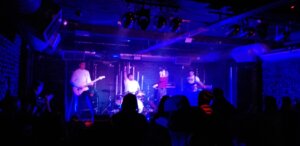 The sound system in Independent is turned up to 11 – the fillings in your teeth find themselves dancing. Guitar duties are portrayed through an angular and abrasive approach – on his lovely pink guitar. Sharp as a blade.

"We're called Hivemind. We are local. This next song is a new one and its called Pretty."

Backed by a galloping bassline and the aforementioned angular guitarwork, Hivemind tore through their track Pretty. The lead-singer gives off Björk vibes at times. She can straddle on both sides of sweet and sour at the drop of a hat. Her range and power is superb.

"This next songs like a little time capsule." Hivemind delightfully slam their way into a cover of Brianstorm by Arctic Monkeys. These guys certainly know how to play. They segue into a breakdown of sorts – then straight back into the jet-fueled jam of Brianstorm.

The cold and black brick walls of the Independent venue found a well-needed warmth in the response from the crowd. It's fair to say that Hivemind more than earned their applause.

NEOLECTRICS

3.30pm, Ship Isis. I found myself strolling across Sunderland to get to the next act – Neolectrics. By the time I get there the show has already begun and the room in which they play is close to maxed out. I squirm my way through a small sea of people and find a spot to watch them from the back.

The band state that they had some troubles related to the name of the band: "We had to change out name as some lawyer in America were after us." The cheeky-chappy lead-guitarist takes on talking duties. His bandana is reminiscent of the Karate kid – he's up for a good time. The band exude a happy-go-lucky mentality. Smiles all-round.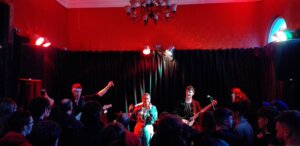 The drummers decided to head the shirtless route – probably the best choice for the compact nature of the Ship Isis. In simple terms, it's a sweat-box. The room is no more than 20 by 15 feet. Tiny.

Attendee James gets a lovely Happy Birthday. "That's all you get haha" says the lead guitarist.

"This is unfortunately our last song." The crowd jeers. "You could have been a bit louder." Louder jeers. An evidently young band with fervent potential. One to keep an eye on, for sure.

Three gigs in. No duds, all love.

PAVE THE JUNGLE

4.20pm. The Live Lounge. I found myself caught between two worlds and only caught the final song from Pave the Jungle, but it was a scorcher.

TOM A. SMITH

5pm. I got to the black brick dungeon AKA Independent early to guarantee a spot for Tom A. Smith, a highly anticipated gig across the day. I thought my clocks were wrong as he was already playing when I arrived on the scene. My worries were calmed when they notified that it was only a soundcheck when he and his fellow bandmates stated "Don't clap yet, it's only soundcheck. Save it for later."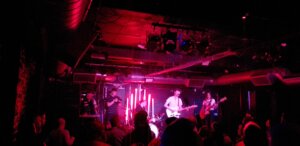 The crowd amassed on short notice. Independent went from relatively full to sardines-in-a-crushed-tin-box in no time. Tom and his fellow bandmates made their way on stage. "My names Tom A. Smith, we're gonna play you a few tunes." The crowd are all for witnessing a future star do his thing.

"This is my first show in Sunderland. That's pretty special, being a Mackem. I played this song on Soccer AM last week with Miles Kane". The band proceed to play Like You Do.

"This year we played a festival called Reading and Leeds – well actually it was just Leeds. We played this and it went a bit mad. Here's a bit of Swedish House Mafia." A groovy rendition of Don't You Worry Child ensues.

You can tell that Tom loves what he does. His smile and aura is infectious. However, there's certainly a vicious bite to his character – a hunger. He'll fill the boots that he'll undoubtedly be given.

The final song begins with an introduction to the band. "Dylan Abbott on Guitar and keys. Frazer Graham on drums. Frazer's got some fans tonight. And Katie Anderson on bass. This is our last song. It's called Dragonfly."

Independence ruptures in applause for the hometown hero. The crowd certainly did save their soundcheck applause.

BULL

I managed to also watch Bull soundcheck. It's an interesting process of finding the instruments sweet spot in the mix and also making sure that the musicians are happy with where they sit in the sea of things. Setting up for the acoustics of a space has the potential to be a well and truly daunting experience for musician and sound engineer alike.

6.45pm. Independent. York's Bull set their sights on the inside of a Sunderland venue – apart from soundcheck, of course – for the first time. They bring with them their indie-centric style and sound which falls in line with bands like Pavement and even giants like Radiohead. Their 2021 project Discover Effortless Living proved to be a fruitful album with tracks like Green and Shiny Bowl showing promising signs of becoming go-to indie takes.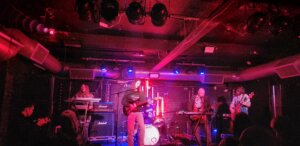 The band are all wearing different styles of clothing – the look that caught my eye was the bass player with his deep-red bass and his deep-blue dungarees. The lead-guitarists Tersonal Prainer jumper is a nice touch also.

There's a sense of innocence surrounding them and their music. It comes from a wholesome place. There's also an underlying sense of chaos to the performance and, personally, I'm all for it. Frontman Tom's guitar strap comes loose during Shiny Bowl. "Lots of technical difficulties lately. First choice guitar, that broke. Second choice guitar, that broke. This isn't actually my guitar."

The mic stand starts to waver – Tom dismantles the microphone and takes it into his own hands. "This next one is called Tired Of Being Treated Like A Twit." I see it as a well-placed jab at the mic stand. "Lets take some time to get it right" as an attempt to fix the mic stand is made. "We're Bull from York. You're Independent… from Sunderland."

Things might have gone wrong during the set, though they were mainly technical issues, but you cant doubt the band on the passion front. The additions of wind instruments adds a lighthearted edge to their already lighthearted and somewhat comedic music – flutes and tin whistles of sorts and a trombone make an appearance throughout the set.

"Like I said earlier, all my stuff is broke. Im doing my best with what I've got. It's all in the shop, its getting fixed, you know." Through all the difficulties, they put on one hell of a show. Their out-and-out talent and odd eye for musicianship comes through in flying colours.

Tom's mic stand falls lower and lower during the final song. He acts accordingly and takes part in a limbo-like dip to catch up with it, twice. The mic stand eventually ends up lying on the floor. He circles around it. As the song comes to an end he says "Listen everybody, get that mic stand."

Bull featuring the sub-plot of man versus mic stand. Adversity is key.

As stated before this was most definitely the most chaotic performance of the day, but ultimately my favourite, for sure. As Bull are packing their gear away they share a stage with Pip Blom, who are setting up, and exchange hugs – it's always lovely to see bands from other parts of the world acknowledge each others existence.

PIP BLOM

8pm. Independent. The pre-gig soundchecks would become a common occurrence as, yet again, I witnessed the next act, Pip Blom, set themselves up.

The Dutch four-piece take to stage with Weezer's Buddy Holly as entrance music of sorts.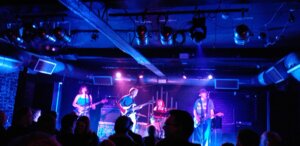 The band are high on those groovy, feel-good vibes – especially the drummer who is on cloud-nine of crashing drums. She plays like she's possessed. It's the first case of the day where the possibility of an exorcism may be at hand. She's nothing short of irreverently fierce.

The guitarists T-shirt reads: "I could get a good job if I tried, but what's the point?" His blue T-shirt turns dark-blue as the gig gets two thirds through – it's a hot one, no doubt about it.

Independent is filled with their Dutch love. There's quite a sense of technical abilities to Pip Blom's output – it seems simple on the surface, however, there's a lot more to it than meets the eye. Their rhythms are quite deep. Sticky and menacing at times, all the while ticking the happy-happy-happy box. It's a tough thing to pull off as well as they do.

Sacrifices have to be made and they were. I dipped 15 minutes early to secure a place at the Fire Station for The Pale White.

THE PALE WHITE

The Pale White's only North East gig this year began shortly after 9pm. I secured a seat for this performance. My lower back manages to pull a fit when it goes through rigorous standing. Years spent hunched over a sink in kitchens are starting to take their toll. Bless. This one would be enjoyed from the comfort of my own chair.

The Pale White have their very own cookie monster on drums. He's a bit of a steady beast; tight-knit and nasty with his chosen choice of weapons being slicing hi-hats that snip-and-snap like a pair of scissors. "Sunderland how are you doin? By the way were from Newcastle. Boo. But my dads a Mackem. Wahayy."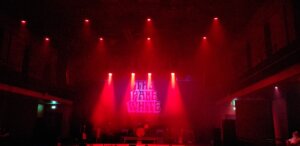 Every corner of the Fire Station is filled with the spirited performance of The Pale White. The dance floor slowly fills up to near maximum capacity as the show goes on. "Alright. Should we have a dance or what?" The band bring with them a fantastic light show. Almost to the point of being blinding.

The final track is lead into with a thought from front-man Adam. "If it's a T-shirt or Faye, choose Faye." A lovely little tidbit with regards to donating to Faye Fantarrow, a local singer who found out in August she had a rare and aggressive brain tumour, and is raising money for treatment.

The Pale White wrapped up proceedings with what seemed to be an elongated jam that pushed the sound system in The Fire Station to its limits. My socks were vibrating off of my feet.

All in all WAVES was a superb way to spend my Saturday, finding familiar and also fresh faces, seeing future festival strongholds in the flesh and an all-round good buzz is your go-to thing. For the day that's in it, you really can't go wrong. It's a beautiful thing to be a part of. Major kudos to the events organisers and attendees.

Until next time.
Were you at WAVES? Let us know who you went to see @sparksunderland
---