It is my job to keep the North East Crime-Free: Kim McGuinness
Written by Godstime David on 5th November 2022
Northumbria police and crime commissioner Kim McGuinness says her team is working hard to prevent crime in the North East.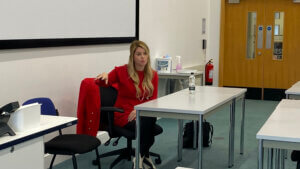 During a press conference at the University of Sunderland, she said the best way to reduce crime in the North East is to prevent it from happening in the first place. 
She also said the police have partnered with several organisations and programmes designed to maintain a no-crime environment. 
"We are making sure to increase the number of our patrol locations, police intelligence, and tracking down entry routes of these crimes.
"Everyone has the right to walk down the street and feel safe" she added. 
She said the crime rate in the North East has been down since 2019.
"The crime reduction unit is focusing mostly on people who are either at risk of committing violence or already in the periphery of getting involved in criminality," she added. 
In the meantime, Ms McGuinness said her unit is taking cases of domestic violence more seriously and plans to prosecute offenders in an attempt to stop the cycle. 
"In the event of domestic violence, we investigate the issue and ensure the victim receives all the help that might be required. 
"We have a prevention agenda designed not just to help victims protect themselves, but how to work with perpetrators to stop them from the act," she said. 
The police and crime commissioner said overall, her aim is to re-direct resources in preventing crime in the North East. 
In a press conference covering several topics, she also said Britain would experience hard times in the next 18 months following economic instabilities. 
"We are in for the most turbulent ride, but I am pretty confident it will pass." 
---