"We Did Not Vote For This": MPs React to New PM
Written by Godstime David on 25th October 2022
Rishi Sunak's appointment as Prime Minister has been criticised as "undemocratic" by North East Labour MPs.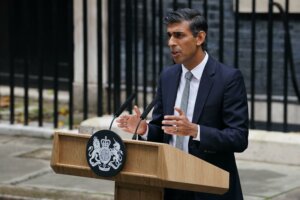 The former chancellor was selected by more than 180 Conservative MPs to succeed Liz Truss as Tory leader.
This announcement sparked mixed reactions across the North East, but Labour MPs were united in their disapproval.
Newcastle Central MP Chi Onwurah posted on Twitter: "The Tories are treating the highest offices in the land like tombola prizes, even as they use them to crash the economy and make working people, particularly in the North East, pay for the privilege."
The MP added that the public deserves their say on Britain's future.
South Shields MP Emma Lewell-Buck said: "Totally fed up of the Tories trampling over our democracy, ruining our country and its reputation abroad."
Sunderland Central MP Julie Elliott, also called for a general election. She tweeted: "No one voted for this".
However, two Conservative MPs had different views.
Bishop Auckland MP Dehenna Davison congratulated Rishi Sunak on becoming the new PM: "He's got a mammoth task ahead. The country faces huge challenges and people are counting on us to deliver, so we need to get behind Rishi now." she said.
Darlington MP Peter Gibson tweeted: "I'm delighted that our greatest friend and neighbour who developed Freeports, Darlington Economic Campus, and who supported us immensely during Covid will become PM.
"We now need a period of certainty, stability and I know he is the man to deliver that."
This turn of events means Rishi Sunak, at 42, will be the UK's youngest PM in more than a century and the third Prime Minister in seven weeks.
Meanwhile, Liz Truss has departed No 10 Downing Street.
In her final speech, Liz Truss said: "brighter days lie ahead" for the country.
The outgoing Prime Minister wished Rishi Sunak "every success" as he takes the reins.
Let us know your thoughts on Rishi Sunak's appointment @sparksunderland.
---