North East produce celebrated at food festival
Written by Winner Ogoke on 25th October 2022
Last week, some of the North East's local food heroes hosted a pop-up festival in Sunderland.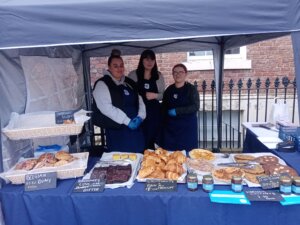 The event saw different vendors display varieties of food and cocktails.
Marina, a business owner from Newcastle, said: "The festival is a way to promote and patronise local and small businesses, as well as show support."
Sunderland College's Hospitality and Catering course were also there, providing students the chance to showcase food and drink they have produced to the public.
"This is part of our studies to go to the market with different students, it is the part of the learning we are selling bread, large chocolate, brownies, butter, croissants" they added.
Newcastle business owner Bridget said: "The food festival is a local hero event, it is a way of promoting small businesses and to make the product known by people in Sunderland."
Were you there? Let us know @sparksunderland
---