From Washington to Ukraine: North East teacher delivering aid to war-torn Ukraine
As Russian forces continue their invasion on Ukraine, a North East teacher is putting his maths books away to focus on delivering aid to those hardest hit by the war.
Across Ukraine, alarms are sounding out, warning residents to take shelter from impending Russian missile attacks.
Most North East residents would find it difficult to imagine the chaos of the situation or the feeling of desperation and need to get down to bomb shelters in time, but for Washington man Paul Hodgson, this has become the soundtrack to his daily life.
"You kind of get used to a lot of it. Like the sirens and stuff like that, it's almost like, sort of background sometimes. You kind of just get used to hearing them."
Paul, aged 48, was a maths teacher at a British language school in the Ukrainian capital city of Kyiv when Russia invaded the country on February 24.
Alongside his Ukrainian fiancee Nadia Ustenko, the pair – who were due to be married in July – are now focusing their efforts on providing much-needed aid and pairing Ukrainian refugees with UK families using Paul's contacts in England.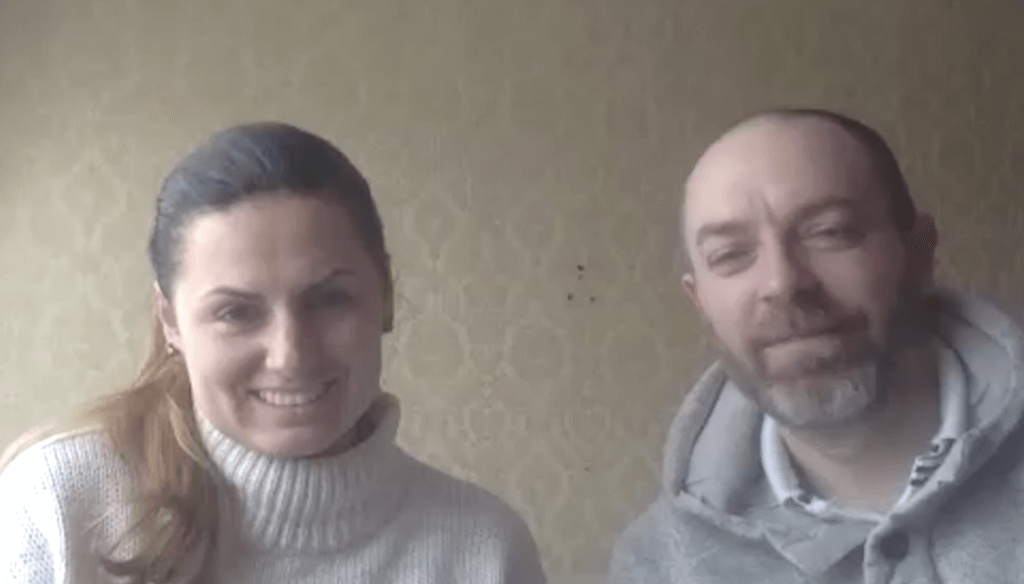 The teacher's humanitarian journey was not planned, and began when a coach, booked by his school to transfer staff out of the city, was given to another group at the last minute. As a last resort Paul offered to drive the much smaller school minibus to get his colleagues to safety.
He explained: "I mean you hadn't planned this, there was no plan to move into anything other than teaching, that was the kind of plan for the next few years, but obviously circumstances dictate otherwise. So, it's interesting, sort of meeting all the people we have met since doing this and seeing what we can do."
After driving the bus out of Kyiv further South to Cherkasy, Paul and a colleague made the decision to return to the capital the following day to collect some others who hadn't been able to make the initial journey – picking up some hitch-hikers along the way.
However, after returning to Cherkasy to the sounds of planes and sirens in the night, Paul and Nadia determined that it wouldn't be a safe place for them to stay.
They prepared to set off for Moldova in the bus, where his colleagues looking to leave the country would continue their journeys onto Hungary and Romania – the closest countries offering any flights.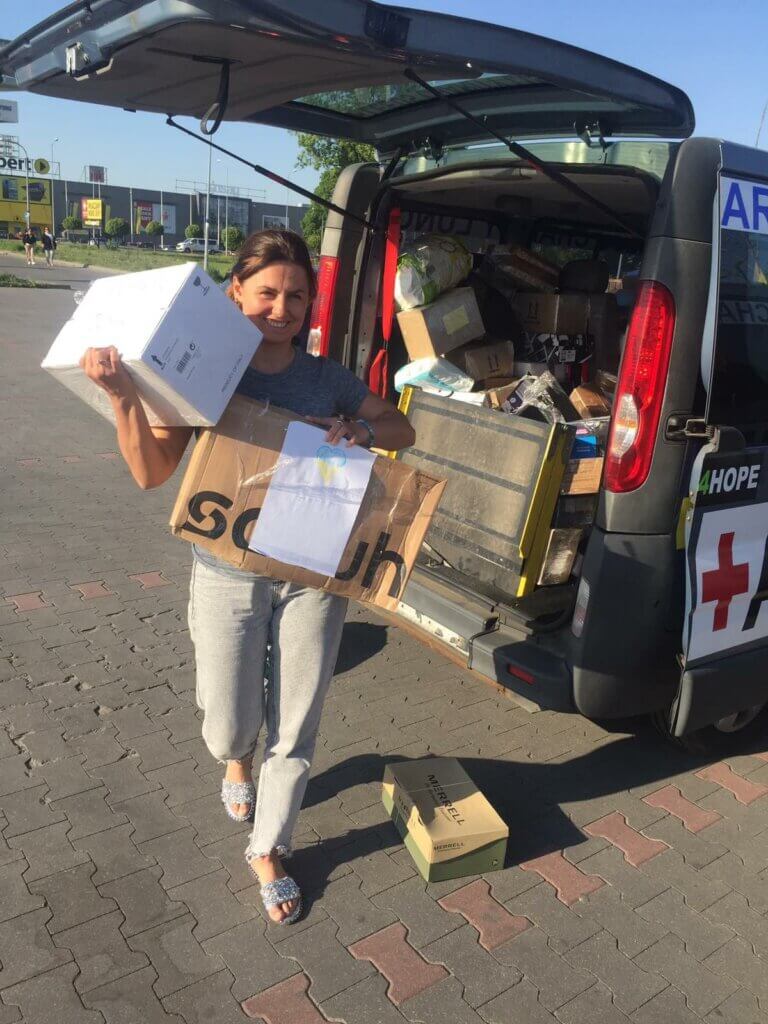 Once his colleagues had been successfully driven out of the country, Paul and Nadia returned to Ukraine, where they liaised with Nadia's mum in Ternopil before returning the school van to Kyiv, where Paul and Nadia decided that their work wasn't done.
Paul said: "It just felt like we wanted to get involved and sort of do what we can. Once we had handed the school bus back we kind of decided right cool, let's just see what we could do with the volunteer groups, see what we could do there. And you know we went round different schools, made some cargo nets and camouflage nets and helped with the volunteer groups."
After volunteering and driving the minibus, Paul felt that he could lend his driving skills to help more people in Ukraine and deliver aid to those most in need, but with most working vehicles being commandeered by territorials and militaires, vans were in short supply.
It was at this point that Paul set out on a mission to raise funds for a minibus to transport aid and refugees across borders by setting up a GoFundMe page which he and Nadia, alongside their friends and family, promoted on Facebook.
To date they have raised an incredible £6000 towards the cause and through his posts and video updates on social media, Paul was put in touch with Haydn Jessop, a charity worker based in Leeds, who alongside his business partner arranged for multiple vans to be sent to the front line.
Haydn, who works for Vulnerable Citizen Support Leeds, collaborated with Leeds Charity Lunch who donated an amazing £30,000 worth of vans which were then driven over to Ukraine full of aid and left to be used by Paul, Nadia and their colleagues on the front line.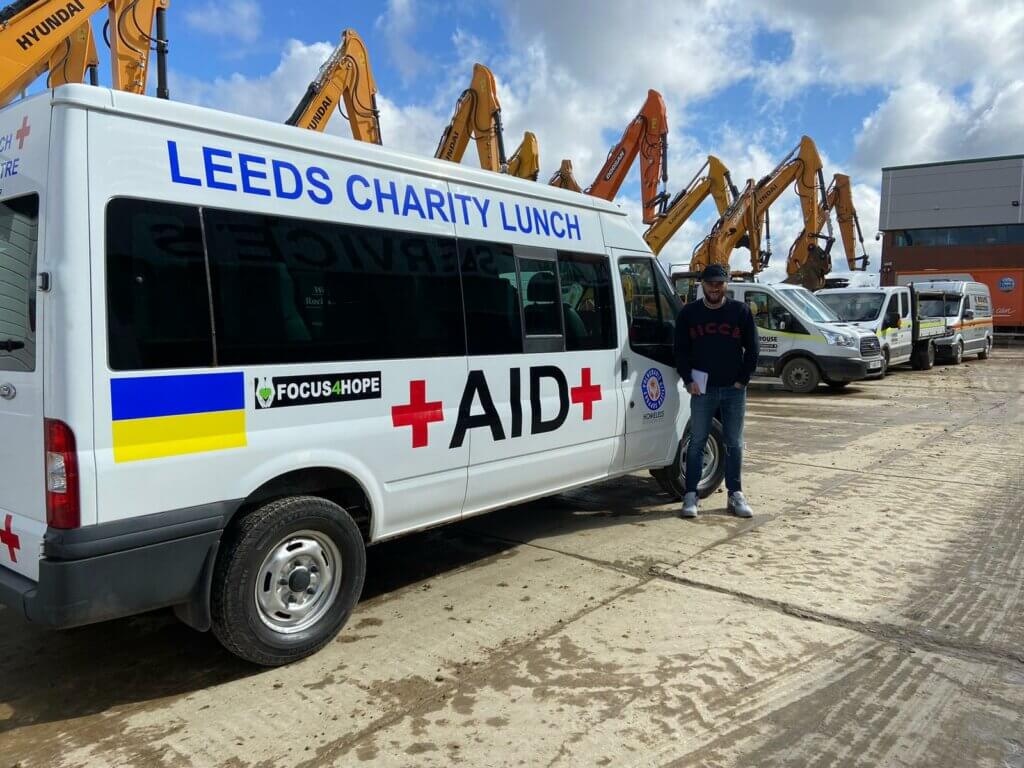 On the work being done, Haydn said: "Honestly, Paul's the hero in the end, and Nadia, and his contacts. The boots on the ground over there. I'm just a little piece of what's happening at the moment and I'm proud to be on the journey and to be part of it."
Over 6.8million Ukrainians have left their homes in search of refuge in new countries. As of May 29, 65,700 Ukrainian visa-holders have arrived in the UK out of a total 120,200 of the visas issued, but Paul and Nadia are determined to stay out in the field.
Now, with Leeds Charity Lunch as a contact sending regular donations, the couple are dedicating their time to ensuring the aid is delivered to where it's most needed.
So far, the charity has sent out nearly 145 tonnes of aid and 34 vans including a 15-seater minibus, a minibus with disabled access and even a horse box.
Paul explained: "Looking at ways in which we can do what we're doing and help people where we can and try and sort of make a living out of doing this instead of teaching. Seems to be a bit more worthwhile to us so we're just kind of working on ways to open charities in Ukraine and in the UK."
As part of their work, the couple have since set up their charity We UKrainians which is also looking to match Ukrainian refugees with host families in the UK and across Europe.
And with an air of cool, calm and collected, Paul and Nadia plan to continue their work, putting the background noise of the alarm sirens behind them and looking to a future where they can rebuild their beloved home. 
---