UoS graduate Caitlyn McAdam commended at NCTJ awards
Written by Connor Bromley on 18th March 2022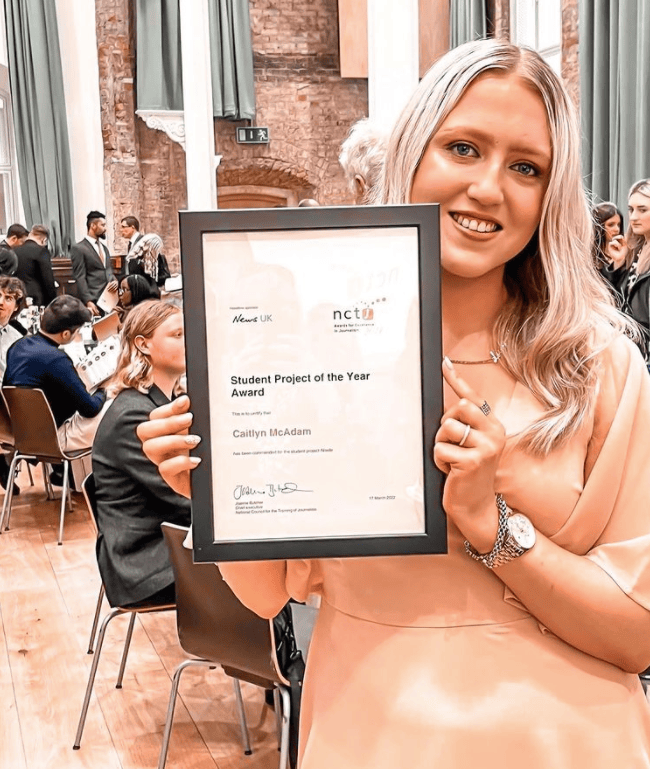 University of Sunderland graduate Caitlyn McAdam was commended last night at the National Council for the Training of Journalists (NCTJ) awards last night in Manchester.
Caitlyn was shortlisted for the Best Student Project award, after creating the magazine Noelle for her Fashion Journalism final project.
She told Spark: "I was so thankful to be shortlisted for Best Student Project and it was an honour to be commended for my work.
"To be the only magazine in the running was outstanding, I couldn't believe it!
"I created Noelle, at a time in my life where my mental health was at its worst and I felt like I had no purpose anymore but to see how far I have come and the growth I experienced along the way, it made it all worth it in the end.
"To create a magazine during the Pandemic it wasn't easy but as cliche as it sounds, it's to not give up because it goes to show hard work does pay off."
Caitlyn also praised the staff at the University, and said: "I couldn't have done it without the incredible support from my loved ones and the academic staff at the University of Sunderland. 
"Thank you to Carole Watson, John Price and Lee Hall who attended the event with me.
"However, I have to give a special thank you to Fashion Journalism Programme leader and my project supervisor Carole Watson. She saw my vision from the beginning and with her guidance and support, Noelle was created."
Fashion journalism programme leader Carole Watson, who supervised Caitlyn's final year project, said: "We are all so proud of Caitlyn for showing such talent, resilience and a can-do attitude producing her magazine with a wealth of stories during the pandemic.
"We even had meetings together to discuss her project in the rain huddled under an umbrella with take away coffees because we weren't allowed to meet indoors during lockdown.
"But it never curbed her enthusiasm for her work and finding multiple sources around the world.
"Noelle has real commercial value, and I'm delighted it was nominated by the NCTJ from hundreds of entries nationwide by the NCTJ. It was so well deserved."
---