New lane closure on the A1 outside Sunderland to remain in place for 14 months
North East commuters are set to face major delays after it was confirmed the closure of the inside lane of a stretch of the A1 already affected by roadworks is to remain in place for 14 months.
Drivers heading south on the A1 through roadworks between junctions 66 and 65 have hit longer queues in recent days caused by the inside lane of the motorway on the climb towards the Bowes Incline being closed.
And Spark Sunderland have received confirmation from the National Highways agency that the tailbacks – which have stretched back to well before the Team Valley Retail Park turn-off – will last for well over a year.
National Highways Project Manager Nicola Wilkes said: "As part of our A1 Birtley to Coal House improvement scheme, we have closed one lane from junction 66 to 65 to create a safe space for our workforce while they build a new lane and central reservation. The other two lanes remain open.
"This daytime construction is an important part of the scheme, which is still on schedule. Carrying out this work in the evening would prolong the process, although we always closely monitor our traffic management and will continue to review its impact.
"We will endeavour to minimise disruption throughout this project, which will reduce congestion by increasing space for drivers, make journeys safer by improving the standard and capacity of the road, and support economic growth by improving the route to Newcastle and Tyneside in the Team Valley Employment Zone."
The third lane is used as a slip road for people exiting Birtley to join the A1 and an exit lane heading towards the Eighton Lodge roundabout onto the key A1231 commuter route towards Washington and Sunderland.
Washington resident, Paul Ferguson said: "At 7am this morning there was standstill traffic on A1 Northbound at the Washington/Birtley junction."
Another driver, Ashleigh Robson, said: "I've decided that I'm not going to travel that way home on a night."
The wider roadworks scheme between Team Valley and Coal House began in July 2021, and are scheduled to last until 2025.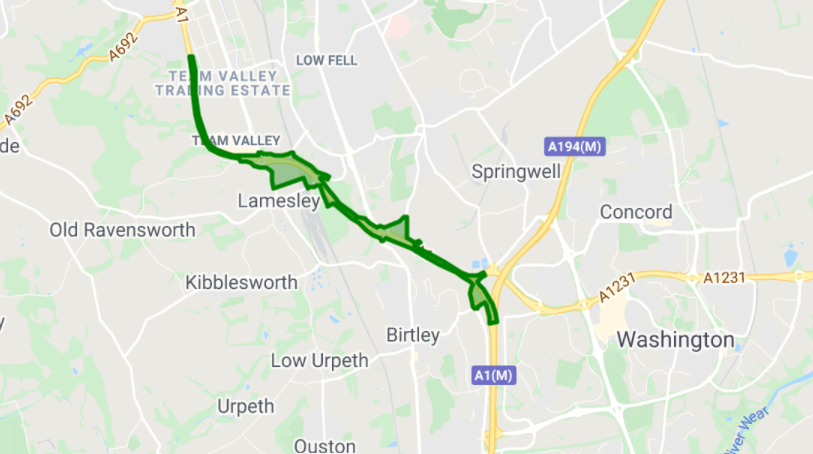 The A1 has been reduced to 50mph and average speed check cameras are in use since roadworks began, but rush hour motorists are now getting up to no more than a crawl between Team Valley and the Bowes Incline.
---