John Lewis stages spaceship "crash" in Newcastle as festive ad unveiled
Written by Eve Bell on 4th November 2021
The strange spaceship "crash" spectacle seen in Newcastle city centre has been revealed as a marketing tactic from retailer John Lewis who are promoting their latest Christmas advert.
Over the past week, John Lewis has been dropping hints about its latest Christmas advert, even staging a spaceship "crash" in Newcastle city centre.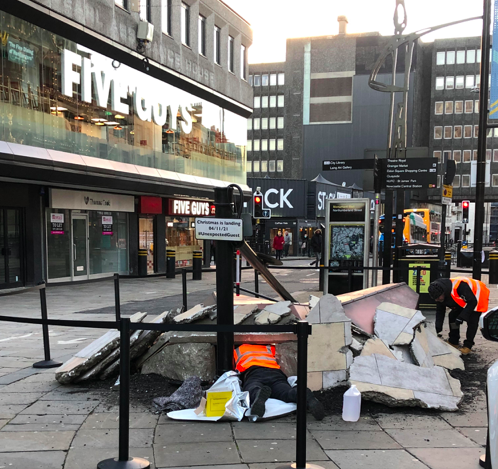 The crash was set up on Northumberland Street outside Fenwick's. The display featured a plaque that said: "Christmas is landing 04/11/21 #UnexpectedGuest," as shoppers questioned if Fenwick's or John Lewis were responsible.
A similar sculpture has also appeared at London's Southbank.
And at 8am today, John Lewis released its iconic Christmas advert (two weeks earlier than usual) and all online theories about who was behind the marketing ploy were put to rest.
The spaceship crash seen in the city centre was a reference to the new advert titled "Unexpected Guest."
A young boy, Nathan, sees a crash in the woods on his bus home from school and goes to investigate. When he discovers an alien, a girl named Skye, he begins to teach her all his family Christmas traditions.
He starts with sharing a classic Christmas staple, a mince pie, before having a snowball fight, decorating a tree, and sporting garish Christmas jumpers.
Claire Pointon, customer director for John Lewis, said: "There is nothing more magical than discovering the joy of Christmas for the first time and enjoying your favourite festive moments with loved ones."
Following the release of the advert, people flocked to Twitter to voice their opinions and John Lewis shared the joy surrounding their new project, responding to one comment with: "We certainly think it is out of this world."
And just like that, the start of the festive season is well and truly upon us.
How does the latest Christmas advert compare to previous John Lewis favourites?
The Bear and the Hare (2013) – This advert, with its beautiful animation and iconic version of Lilly Allen's Somewhere Only We Know, tells the story of a bear who has never seen Christmas because he is hibernating. His friend, the hare, sets up a present and an alarm clock so he can finally experience Christmas.
Monty the Penguin (2014) – The story of Monty the penguin and his friendship with a young boy tugged on the nation's heartstrings as the boy tries to find him a partner. The reveal that Monty is a teddy bear, alongside Tom Odell's cover of Real Love, captured the magic that John Lewis is known for.
The Long Wait (2011) – This advert sees a young boy who can't wait for Christmas to come. Viewers think he's excited about his presents, yet on Christmas morning it's revealed that he can't wait to give his poorly wrapped gifts to the people he loves.
Watch the new advert online on John Lewis' website.
---