Waitress Musical Serves Slice Of Theatrical Delight at Sunderland Empire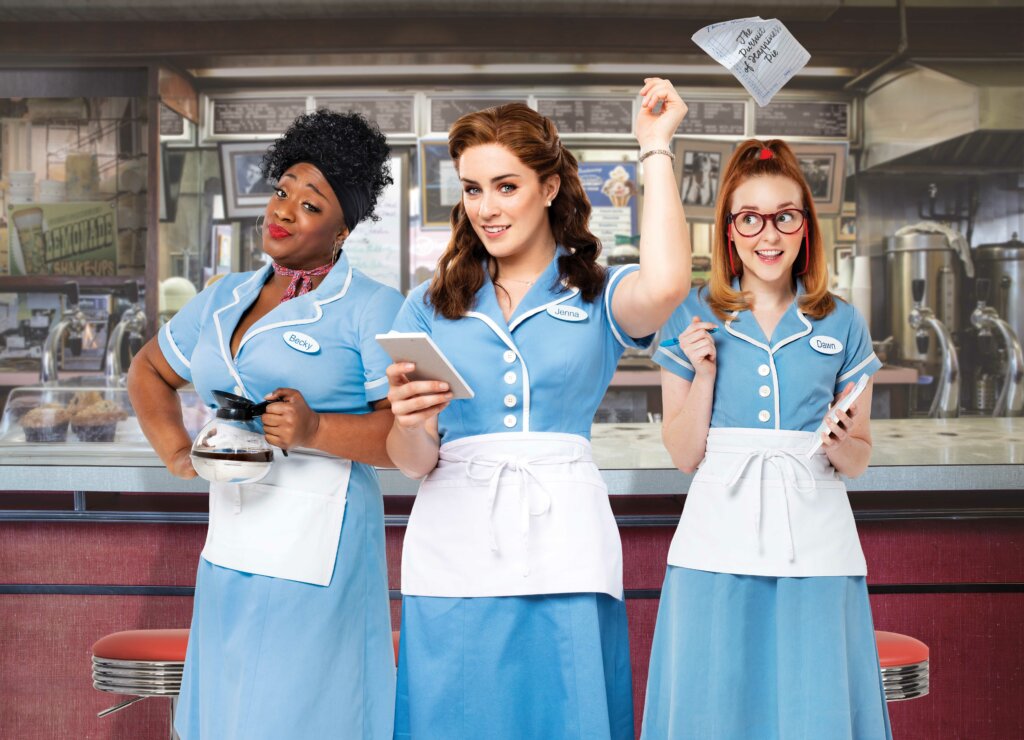 A late October evening is the perfect time to get out of the cold to have a slice of hearty, musical pie and the hit musical Waitress is just that. This juggernaut of a show rolled into the Sunderland Empire fresh off its run in London's West End, bringing all the glitz and glamour of the West End to the North East stage.
Waitress is one of the most heartfelt shows to play the Sunderland Empire this year. Whilst the intimacy of the piece was stretched with the size of the theatre's stage and auditorium, the emotion and vibe of the piece were never compromised. Sara Bareilles's Grammy award-winning score creates a beautiful mixture of memorable tunes and heartwarming lyrics that take you on a musical journey of emotions, complimenting Jessie Nelson's book well. Joining with Diana Paulus' direction and Lorin Latarro's choreography, the show strikes a good balance of storytelling contrasting with the un-naturalistic staging of Jenna's inner thoughts.
Waitress tells the story of Jenna (Lucie Jones), an expert pie maker in a small town, who dreams of a way out of her loveless marriage with abusive husband Earl (Donal Brennan). Jenna goes to see the town's new doctor, Dr. Pomatter (Matt Jay-Willis), in which a relationship sparks out of a pie Jenna makes. Word of Jenna's pregnancy reaches the diner's owner Joe (Michael Starke), to which he suggests she enters a local pie-baking contest, with a large reward that would allow her to leave her husband.
Her fellow waitresses offer Jenna their own recipes to happiness while trying to find theirs. All of this is the frame to Jenna's journey into unexpected motherhood whilst using her fight or flight instincts between head and heart.
The cast of this production features some of the finest talents in British theatre, led beautifully by Lucie Jones as Jenna. Jones has one of the strongest voices in musical theatre, with her gut-wrenching rendition of She Used To Be Mine and thought-provoking Everything Changes that brought the house down as well as showing off both her strong vocal and acting abilities. Jones has created such a well-rounded performance that it grips the audience from the beginning.
Starring alongside Jones is Matt Jay-Willis from Busted who gives a quirky but confident performance as Dr. Pomatter, displaying credible acting choices and solid vocals alongside Lucie in Bad Idea. Sandra Marvin's role as Becky exuberates fun-loving warmth and powerhouse vocals, allowing the audience to warm to the character. Other notable mentions include Christopher D. Hunt's perfectly gross Cal, Michael Starke's caring Joe, Scarlett Gabriel as the hilarious Nurse Norma and Donal Brennan, who made a brilliant debut at the performance we saw as the slightly terrifying Earl.
A word has to be set aside for the comedic partnership of Evelyn Hoskins and George Crawford. Hoskins's Dawn is perfectly packed with heart and warmth as the awkward but caring friend. Every time she enters the stage you cannot help but be drawn to her larger than life presence. Equally, Crawford is a breath of fresh air as the quirky and overzealous Ogie. His rendition of Never Ever Getting Rid of Me was an instant show-stealer and worth the price of a ticket alone.
With the show coming to Newcastle in 2022, this show is something everyone should see, for its tightly-knit ensemble cast perform a beautiful, heartwarming story that will move you in many ways.
---