Eight of the best hot chocolates in the North East to get you through this winter
Written by Daniel Hordon on 8th October 2021
With the dark nights drawing in, temperatures falling, and winter creeping ever closer, hot chocolate season is well and truly approaching.
The North East is home to some fantastic independent cafes and coffee shops and for hot chocolate drinkers there are some wonderful creations to try.
Here are our eight best hot chocolates to feast on this winter from across the North East:
The Boatyard – Cullercoats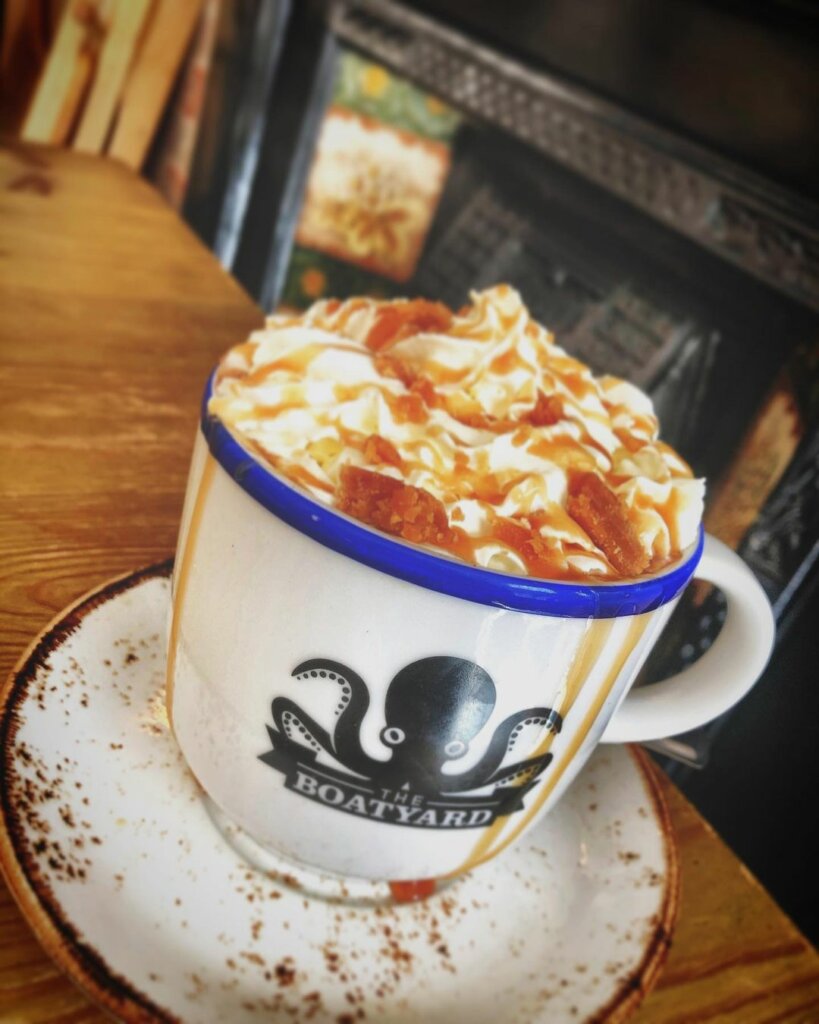 The Boatyard is a small but popular brunch cafe in Cullercoats, just a minutes walk from the
Seafront and easy to reach from the metro station. They offer a fantastic selection of flavoured hot
chocolates including honeycomb, mint aero, chocolate orange, white chocolate and raspberry, and
even a vegan option too.

Address: 1 John St, Cullercoats, North Shields, NE30 4PL
2. Nelson's at the Park – Swarland, Northumberland
First opening in 2015, Nelson's at the Park is a cosy little cafe in Swarland, Northumberland. It's a bit off the beaten track but worth the drive up the A1. The hot chocolates are to die for, served on a massive slate with cream, a pot of marshmallows, and a flake.
Address: Pavilion, The Avenue, Swarland, Morpeth, NE65 9BQ
3. The Dispensary Coffee House – Newcastle
Probably most famous for its colossal pancake stacks, the Dispensary is one of Newcastle's most Instagram-ed coffee spots. Designed for those with a sweet tooth (and fans of boomerangs!), their candy floss hot chocolate is a unique twist on the standard cocoa drink.
Address: Heber Street, Newcastle upon Tyne, NE4 5TN
4. Allard's Lounge – Tynemouth
Mainly a cocktail and tapas bar, Allard's at Tynemouth also runs as a cafe during the day and they have some enticing looking hot chocolates on offer including a s'mores inspired drink perfect for the colder autumnal days.
Address: 74 Front St, Tynemouth, North Shields, NE30 4BP
5. Love Lily – Roker Beach, Sunderland
One of Sunderland's most Instagrammable cafes, it's no surprise that Love Lily at Roker Beach in Sunderland makes the list. With one of the most extensive hot chocolate menus around – offering thirteen different flavours including Kinder, Milkybar, Malteaser, Oreo, Nutella, and millionaires (pictured above) – Love Lily is a must-visit for hot chocolate lovers.
Address: 1 Pier Point, Marine Walk, Roker, Sunderland, SR6 0PP
6. Cullercoats Coffee – Cullercoats
Another coastal cafe that knows its way around a hot chocolate, Cullercoats Coffee is just over the road from the Boatyard, making the seaside town the perfect place for a 'hot chocolate crawl'. With free wifi, this is a great place to do some work while enjoying a lovely drink. Nothing overly fancy, but a good hot chocolate done well with some lovely latte art to finish it off.
Address: 22A John St, Cullercoats, North Shields, NE30 4PL
7. Blacks Corner – East Boldon
Blacks Corner is a restaurant, deli and wine bar in East Boldon specialising in British made cheeses and cured meats. The high-end venue – which recently announced plans to open a second restaurant in Seaburn's former tram shelter – also offers teas, coffees and a tempting hot chocolate throughout the day.
Address: 1 St Bedes, East Boldon, NE36 0LE
8. Surf Cafe – Tynemouth
An establishment that seems to have taken off over the last year, the Surf Cafe in Tynemouth offers some tempting hot chocolates with flavours including crunchie, biscoff and Kinder Bueno.
Address: 2, Palace Buildings, Grand Parade, Tynemouth, North Shields, NE30 4JH
---