Gleeson homes honour Bradley Lowery at Blackhall Colliery development
Written by Ewan Gleadow on 28th September 2021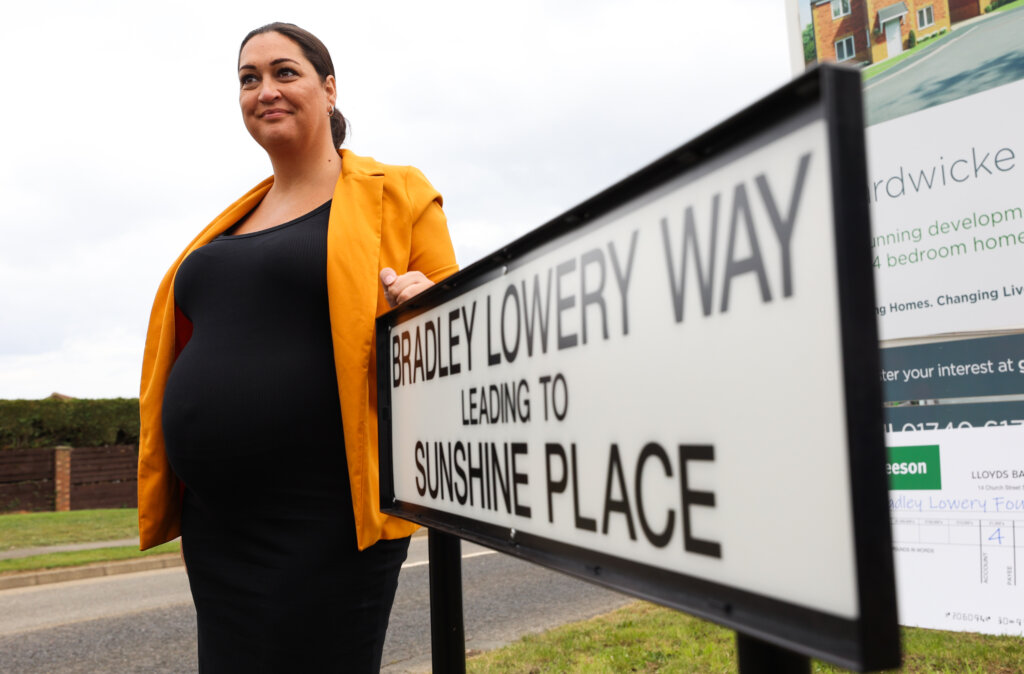 Gleeson Homes has revealed 'Bradley Lowery Way' in a surprise ceremony for the late football fanatic's mum, Gemma.
Gemma Lowery was invited to the developer's Hardwicke Place in Blackhall Colliery to receive a donation of funds raised by the company for the Bradley Lowery Foundation. As well as handing over a cheque for the charity for £4000, a road sign 'Bradley Lowery Way' was unveiled as a surprise for Gemma Lowery, who is currently pregnant with her third child.
Hardwicke Place is Gleeson's new development of 123 2-, 3- and 4-bedroom homes in Blackhall Colliery. It is located less than a mile from where Bradley lived with his parents Gemma and Carl before he lost his fight with neuroblastoma aged six in 2017.
The unveiling ceremony was held to coincide with the final leg of a walk undertaken by Gleeson staff and their families to raise funds for the foundation. They walked the equivalent distance of Land's End to John O'Groats in stages across the North East, covering a total of 874 miles.
'Bradley Lowery Way' is one of two roads on the estate to be named after the avid football fan, the other will be called 'Sunshine Place'. Sunshine was the nickname that Gemma and Carl gave Bradley because of his sunny disposition despite the pain and discomfort he endured through his illness.
Gemma Lowery, CEO of the Bradley Lowery Foundation said: "When I was first contacted by Gleeson and they explained their idea to name a street after Brad, I was totally blown away. It's an incredible gesture which will be a lasting legacy to our beautiful little boy.
"I had no idea the signage was ready to be revealed today! It was such an emotional moment for me. I'd like to take this opportunity to thank everyone at Gleeson Homes for this lasting tribute to Bradley, and also for their support for his legacy foundation, which continues to support poorly children around the country every day."
Natalie Bailey, sales manager at Gleeson Homes, said: "What can I say, what a challenge it has been but so worth it. Myself, Gemma and Terri are over the moon to have completed this challenge for such a worthy cause. The whole Gleeson North East division are on board with this and supporting Bradley Lowery Foundation, so keep an eye out for our next charity fundraiser. We would like to thank everyone for their support and donations."
The Bradley Lowery Foundation was established in memory of Bradley Lowery, who passed away following a fight with Neuroblastoma in 2017. Since then, the Bradley Lowery Foundation has raised more than £3million for dozens of poorly children across the UK; established a dedicated support line for the families of children with cancer; donated over £200Ks to researching childhood cancers and campaigned for new drugs to be introduced in the UK.
---