What could promotion mean for the City of Sunderland?
There is no denying that Sunderland achieving promotion through the play-offs would be absolutely massive for the club. Attendances will rise back up to the high 40,000s, top flight football would be back in the city and the famous Tyne-Wear derby would return after a long seven-year absence.
However, promotion would be massive for the city of Sunderland as well. Sunderland returning to the top flight could potentially enhance the reputation of the city, more people would want to visit due to theattraction of Premier League football finally returning to one of England's most historic football clubs.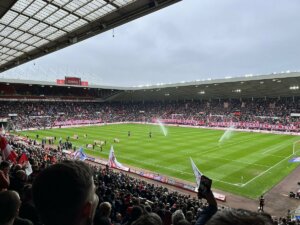 Not only would the reputation of our city improve, tourism levels would also improve. Many football fans travel to different countries to take in a game in person, promotion would increase the numbers of people travelling to the Stadium of Light and the city itself.
The economy in Sunderland would also be given a much welcome boost. Businesses such as pubs and hotels would be given huge financial boosts by the increased amount of custom.
Sunderland potentially returning to the Premier League would also give the people of the city another reason to be proud of their club, if they already weren't after a hugely impressive season.
I interviewed Kian Armstrong to get his thoughts on the situation:
---