New Metros set to take public transport world by storm
Written by Marlind Ymeri on 11th May 2023
New Metros set to take public transport world by storm! 
The Metro operator Nexus has recently announced exciting plans for their new trains which are expected to begin running in late 2023.  
Having partnered with Swiss manufacturer Stadler who began developing the new fleet of trains in 2021 they are finally ready to release them, having been given £362 million to build the fleet of trains. Test runs have already begun to ensure the new trains are fit for service.  
The new fleet of trains are expected to begin service in late 2023 and takeover fully by 2024/2025 with the old fleet remaining in service until the new fleet is fully operational.  
Nexus communications officer David Punton. Punton discussed the main benefits of the new fleet stating that "the new trains will ultimately be more reliable than the new fleet, it is a state-of-the-art technology, a high-quality finish built by Stadler who are a world class train builder."  
Punton also stated that "this is great news for our customers going forward and that the current fleet will still be needed for the moment."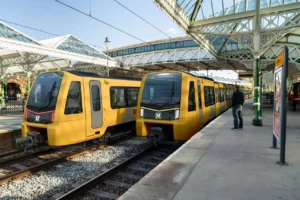 Credit: Nexus
---