45th Beer And Cider Festival in Newcastle
Written by Oliwia Libelt on 12th April 2023
The Newcastle Beer and Cider Festival is an annual event held in Newcastle, which celebrates the best in craft ciders and real ales.
The festival has been running for 45 years and has become a popular fixture in the local calendar, attracting visitors from across the region and beyond.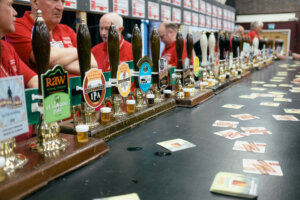 The festival takes place over several days and features more than 80 different types of cider and real ale from some of the best craft breweries and cider makers in the UK.
Visitors can sample a range of different flavours and styles, from traditional dry ciders to fruity and sweet varieties. There are also beers and ciders from international brewers and makers, giving visitors the chance to taste some unique and exotic flavours.
The festival is held at Newcastle Rugby Football Club's ground in Kingston Park, and there are several bars and food stalls set up throughout the venue. There is also live music and entertainment throughout the day, providing a lively and festive atmosphere.
One of the highlights of the festival is the selection of locally sourced food and produce on offer. Visitors can sample a range of dishes made using locally sourced ingredients, including traditional pies, cheeses, and meats.
The Newcastle Beer and Cider Festival is a great opportunity to support local businesses and producers. It is also a fun and social event, providing a chance to catch up with friends and enjoy some great food and live music. Whether you are a cider lover, real ale enthusiast, or simply looking for a fun day out, the Newcastle Beer and Cider Festival is definitely worth a visit.
---