Ellie Simmonds' Strictly appearance had Sunderland dwarfism advocate "close to tears"
Ellie Simmonds starring in Strictly helped fuel awareness for the dwarfism community. Ethan Aaron Banks talks to a dwarfism advocate and mother who hopes it will inspire more conversations and for people to shine as themselves.
A blind Scottish running legend taking to the ice in 2020; an ex-hunky PE teacher with club foot entering the Love Island villa as the first disabled cast member in 2021; a TV presenter making her debut as Loose Women's first wheelchair-user panellist in 2021; the early 2020s has already seen a wealth of history being made in media organisations.
And among the country's biggest programmes smashing records, this decade is BBC's Strictly Come Dancing.
In 2022, on August 6, the tabloid newspaper The Sun broke the news that former Paralympics GB swimmer Ellie Simmonds, 28, had signed up for the Saturday night dance competition – making her the first contestant with dwarfism – achondroplasia – to take part in the show.
Not only was it big for the corporation, but also huge for the dwarfism community.
Steph Robson, a blogger and dwarfism advocate from Sunderland, has Russell Silver Syndrome – a rare form of the condition. She was "over the moon" when the story came out.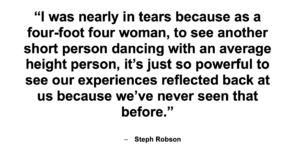 She said: "I thought it was brilliant. I just think after seeing Rose [Ayling-Ellis] the previous year, I actually remember saying on my Facebook page [in 2021]: 'You know, we need somebody from the dwarfism community.'
"And then the following year, Ellie's doing it, and it's wonderful."
https://www.youtube.com/watch?v=aJTM1ivP8Mw
(Video – Ethan Aaron Banks)
On September 24, Simmonds took to the ballroom floor with her 25-year-old Ukrainian professional dance partner Nikita Kuzmin and Cha Cha Cha'd to DANCE by DNCE.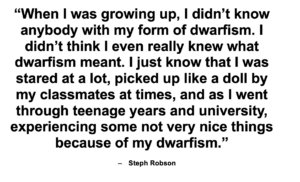 Reacting to seeing Ellie dance, Robson said: "I was nearly in tears because as a four-foot four woman, to see another short person dancing with an average height person, it's just so powerful to see our experiences reflected back at us because we've never seen that before."
As well as close cries, a "mixture of pride" pumped through Steph because of knowing her "own personal experiences" of living with dwarfism and the "stuff that goes with it", and to see somebody from the community on mainstream TV was "just amazing".
"When I was growing up, I didn't know anybody with my form of dwarfism. I didn't think I even really knew what dwarfism meant. I just know that I was stared at a lot, picked up like a doll by my classmates at times, and as I went through teenage years and university, experiencing some not very nice things because of my dwarfism," she recalls.
After failing to win over the judges in the dance-off against singer Molly Rainford, 22, and 28-year-old Chinese dance partner Carlos Gu, Ellie and Nikita were booted off Strictly on November 6.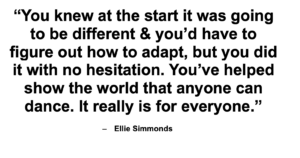 Shortly after exiting, Simmonds took to Instagram to share a heartfelt message.
View this post on Instagram
She penned: "I don't have the words to describe this Strictly experience. It's been absolutely everything & more. I've had the time of my life & loved every single second of it."
Talking about Kuzmin, she added: "You knew at the start it was going to be different & you'd have to figure out how to adapt, but you did it with no hesitation. You've helped show the world that anyone can dance. It really is for everyone."
Robson feels Simmonds' appearance was "massive" in terms of representation but adds: "I think there's still a long way to go in terms of general acceptance and understanding of dwarfism."
Baroness Tanni Grey-Thompson DBE, a disability rights advocate and House of Lords independent crossbench peer, says it is important for these types of shows to represent society but questions what the casting of a disabled person changes to others with disabilities.
"They raise the profile – definitely for the individual – it puts the spotlight on, but it hasn't made trains any more accessible.
"So, I think it's not attributing too much. It's important, and it's useful, and it's a stepping stone, and it's a nudge, and lots of nudges make a difference."
Dr Barbara Sadler, Programme Leader for BA (Hons) Film and Media at the University of Sunderland and has research interests in media representations of identity, thinks it was great that Ellie did Strictly, but believes diverse individuals should be put in roles that are ever-present.
"Representation matters, so put people in roles that are there all the time. That's really what we need. Not something like Strictly where they come in for a few weeks and then they disappear," Dr Sadler said.
She adds: "It's a regular influence that will change people's awareness in a more profound way, I think."
There is a reason why the media are fixated on representation because what we see "impacts our thoughts" and then how we "interact in the world". "It's really important generally to have representations of all diverse people," Dr Sadler mentioned.
Reflecting on Ellie making history like many other personalities on national TV shows, it boosts Steph's confidence that there are organisations out there "willing to platform people who society deems different" and "hopefully, we'll see more instances". As well as this, she hopes it will act as "a stepping stone" and pave the way and "inspire more conversations" around the dwarfism community.
---