Metro customers could spend 15% more on train fares as ticket prices spike
Written by Will Brown on 8th March 2023
Tyne and Wear Metro customers will have to spend more to travel after ticket prices are set for another increase next month.
Metro announced that there are proposed plans to increase all ticket prices as of April 1, with some tickets increasing in price by almost 15%.
Nexus have said they will need to increase the cost of tickets in order to pay for the running costs of the Tyne and Wear Metro.
Customer Services Director at Nexus, Huw Lewis, said: "Under our fares proposal customers who switch to Pop Pay As You Go will save more than £1 a day. If you are already using Pop Pay As You Go prices will be frozen for a second year.
"We are recommending that other fares, including single and day tickets, will have to rise from April 1 in order to help us meet the challenge we face with higher Metro running costs, not least the big jump in the price of high voltage power.
"Metro is a public service that doesn't make a profit, so we require Government support alongside the revenue that we get from fares, all of which goes back into keeping the network running."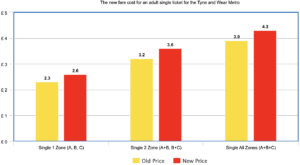 A single adult ticket that can be used to go through all three zones will increase by 10%, with the price of the fare going from £3.90 to £4.30. While a single adult ticket that goes through one zone will see an increase of 13% with new cost of the fare being £2.60.
The prices will be used with the 46 brand new state-of-the-art Metro trains that have been built by Swiss train manufacturer Stadler. The first of the new trains arrived in Newcastle last month and will be phased into circulation over the next few years.
A Stadler spokesperson said: "Technologically sophisticated and highly comfortable, the new trains will cut energy consumption and have modern features including charging points and air conditioning.
"There will be an automatic sliding step at every door, making travel easier for Metro's wheelchair passengers, as well as for people with push-chairs, luggage or bicycles. Unlike many metropolitan networks in the UK which are powered by a third rail, the Tyne and Wear Metro uses overhead lines at 1,500 vaults D"
---