Swastika sprayed in graffiti near Newcastle clean air zone condemned
Written by Andrew Beharie on 2nd February 2023
A Swastika symbol has been sprayed onto a busy route into Newcastle City Centre, in direct response to the introduction of the Clean Air Zone.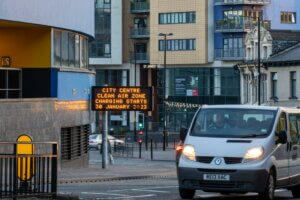 The Nazi emblem was sprayed on Great North Road in Newcastle, alongside the message "F*** THE CLEAN AIR ZONE".
Many drivers entering the city have been greeted by the message, which has since been removed.
Northumbria Police have released a statement condemning the graffiti, saying they are treating the incident as a suspected hate crime.
A Northumbria Police spokesperson said: "We're aware some racist graffiti has been painted onto a road sign on the Great North Road, Newcastle.
"Enquiries into the incident are ongoing and officers are treating it as a suspected hate crime.
"The graffiti has now been removed."
The incident comes after Newcastle City Council introduced the Clean Air Zone on Monday in an effort to cut illegal air pollution levels.
A Clean Air Zone (CAZ) is an area where targeted action is taken to improve air quality, in particular by discouraging the most polluting vehicles from entering the zone.
This means that drivers of older vehicles, with the exception of private cars, that do not meet the required environment standards will be required to pay daily tolls of £12.50 or £50 in order to enter the city.
The scheme, however, has come under serious scrutiny from the public, with major concerns about the financial implications for those who are required to pay the daily toll, given the current cost-of-living crisis.
The City Council have condemned the vandalism, saying it doesn't reflect the "values" of the city.
A spokesperson for Newcastle City Council said: "We do not tolerate offensive graffiti and made immediate arrangements for this to be removed as quickly as possible.
"The symbolism used in this act of vandalism in no way reflects our values as a city or the values of those who live here.
"We will always take swift action to remove offensive graffiti and would encourage people to report any such instances of this by contacting our Envirocall service on 0191 278 7878 or by visiting our website."
---