'Resign now PM': Wearside react to Liz Truss' leadership
Written by Godstime David on 18th October 2022
Residents in Tyne and Wear have reacted to calls for the UK Prime Minister to resign.
This comes after Liz Truss apologised for her Government's mistakes and moving "too fast".
The pressure to leave office intensified following a proposed U-turn from tax cuts and ex-chancellor Kwasi Kwarteng's sacking which raised questions of credibility in her leadership.
64-year-old Tom Raid believes the Prime Minister is inexperienced but deserves a little time to settle into the job.
He said: "I think she's incompetent and will not make a good Tory leader.
"However, she still deserves a chance to prove herself."
In the same vein, retired lawyer John, who declined to give his surname, criticised the move for tax cuts which is now scrapped, and suggested more time for the PM.
The 78-year-old said: "Where the answer lies is hard to say. But at this point, I have no faith in her."
Business analyst Taffy Fortune said: "The Prime Minister is trying to build an economy that is not sustainable."
He also said sacking every member of the cabinet will not change a thing.
Mr Fortune, 47, said: "Ms Truss was voted in on the same campaign promise Rishi Sunak said wasn't going to work.
"What we need is not an apology but a change in Government."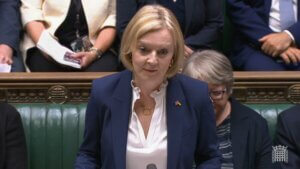 Meanwhile, 36-year-old Colette Cowperthwaite said she was open-minded when the Prime Minister took over but is currently disappointed as Ms Truss hasn't instilled confidence in anyone since then.
She said: "Liz is full of lots of uncertainties. She makes a decision, and you are wondering if she's going to stand by it or revoke them.
"I stand with the MPs, Liz Truss must go."
Reacting to Jeremy Hunt's appointment as Chancellor, Colette said Hunt has got big shoes to fill because previous chancellor Rishi Sunak did a great job.
Business owner John Finn, 39, backed MPs' call for Liz Truss's resignation.
Mr Finn said: "I don't think she's got the backbone for the job. I've got no faith in her," adding that he believes Rishi Sunak would have been a better man for the job.
What are your thoughts on Liz Truss' leadership so far? Let us know @sparksunderland.
---