Pope or Pickford for Qatar? A look at the numbers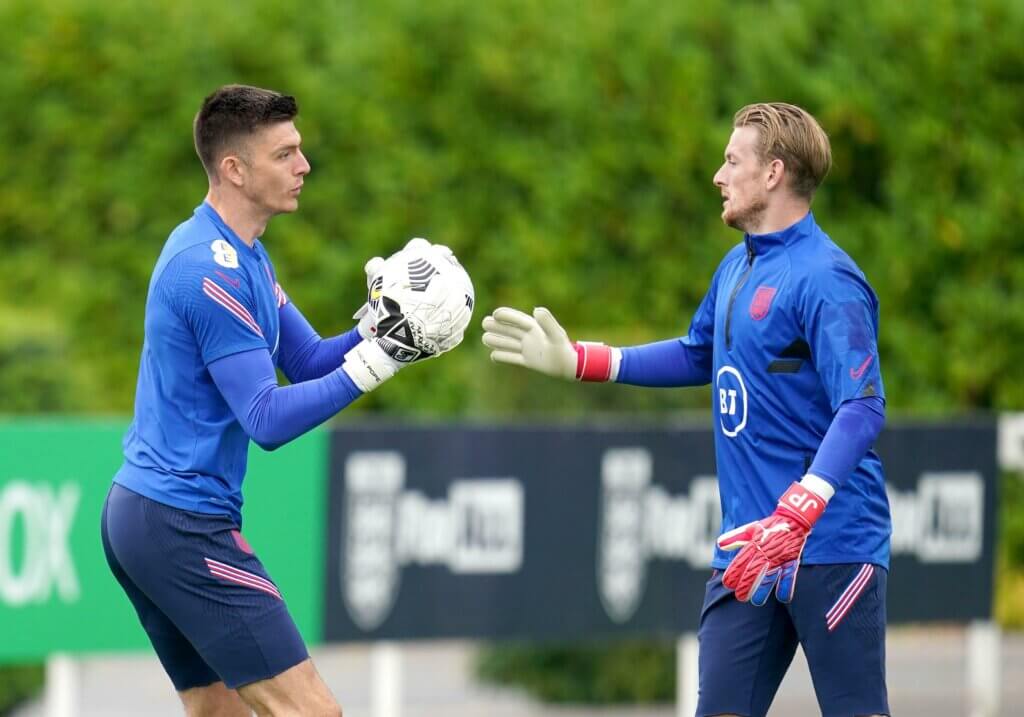 England were on course for a remarkable comeback victory against Germany until Nick Pope fumbled a long-range effort from Serge Gnabry into the path of Chelsea forward Kai Havertz, who converted a late equaliser.
Pope was making his 10th appearance in an England shirt, hoping to stake his claim to be England's first choice goalkeeper in the absence of Sunderland born stopper Jordan Pickford, who missed out with a thigh injury.
Pope has been in fine form for his new side Newcastle, collecting three clean sheets in the first eight matches.
These performances earned him a place in a strong England line-up that should somewhat resemble the team that lines up in England's World Cup opener against Iran.
However, Pope's mistake denied England of their only victory in a poor Nations League campaign where they finished bottom of their group on three points.
This has left a sour mood amongst the England supporters just weeks before the World Cup, leaving manager Gareth Southgate with many important decisions to make before the opening game on the 21st of November.
Players like Harry Kane, Declan Rice and Jude Bellingham look certain to start barring any injury problems, and after Pope's performance against the Germans, it looks likely that Pickford will take the number one shirt in Qatar.
However, Pope's horror show did not reflect his form at club level, and Aaron Ramsdale has also received plaudits in an Arsenal side that sit top of the Premier League. Both will be eyeing Pickford's shirt for the World Cup, but have they done enough to displace the man that has been crucial to England's success in the last two major tournaments?
When comparing the trio statistically in the league since the start of the season, Pickford and Pope have proved to be the better shot stoppers, boasting outstanding save percentages at 84.2% and 79.5% respectively. Ramsdale is some way off the pair in this department, with a save percentage of just 68.2%.
Furthermore, when considering the post-shot expected goals against, Pickford has conceded 4.1 fewer goals than expected, Pope has conceded two fewer goals than expected, yet Ramsdale has conceded 0.5 goals more than expected.
Ramsdale, however, can compete when it comes to distribution, with a pass completion rate of 67%.
Surprisingly, despite looking shaky with the ball at his feet at Wembley and being criticised for his distribution when playing for a direct Burnley team, Nick Pope is not too far behind with a pass completion of 66%.
This beats Pickford's rate of 58.6%, which is the second lowest of the starting goalkeepers in the Premier League, although he has attempted the fourth most long passes.
Pickford, hindered by his shorter frame, also has the lowest percentage of crosses stopped out of the trio which is 5.6%, compared to 6.4% for Ramsdale and 6.5% for Pope.
Despite falling behind in these departments, as an overall package, Pickford has been the standout goalkeeper in the Premier League this season.
While Pope has been impressive statistically for a solid Newcastle outfit and Ramsdale has helped Arsenal reach top spot in the Premier League, they are yet to reach the lofty heights that Pickford has achieved since the start of the season.
With the largest positive difference in expected goals against and goals conceded, and the second highest save percentage in the league, the once heavily criticised Pickford has been operating at an obscene level this campaign.
His performances have been crucial in making a mid-table Everton side become the best defence in the division.
He has also been a stalwart in Southgate's England side since making his debut in 2017, making more appearances than Pope and Ramsdale combined.
His penalty shootout heroics also helped England reach the World Cup Semi-Final in 2018.
If his superb performances for club and country hadn't already secured his place in the starting lineup in Qatar, Pope's shaky audition against Germany left Southgate with no reason to consider replacing Pickford as his first choice.
---