The Beatles: Get Back Review
Written by Callum Rowe on 3rd December 2021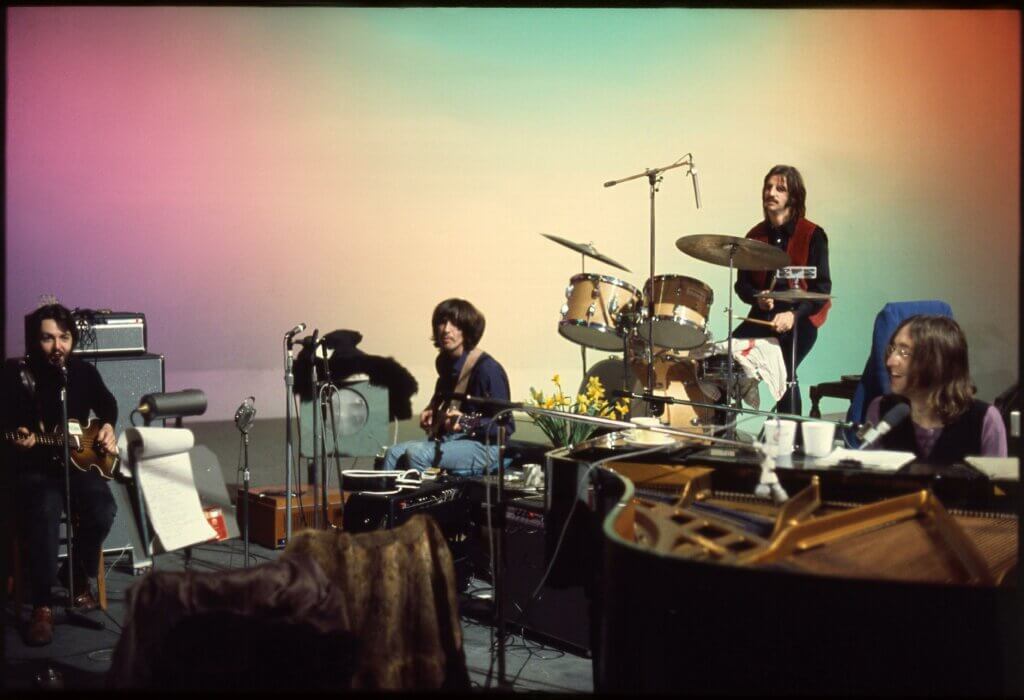 When John Lennon, Paul McCartney, George Harrison and Ringo Starr set out to record an album, make a movie and plan their first live performance in more than two years with cameras capturing their every move, little did they know that the footage would sit largely untouched for half a century. Legendary film director Peter Jackson took on the task of creating a television masterpiece with 60 hours of filmed footage. The result is Get Back, a three-part Disney+ documentary which breaks the series of events down into manageable chunks.
Part one covers the initial week of recording at Twickenham Studios and part two covers the second week of recording at Apple Corps studios. The final part shows the famous rooftop performance on January 30, 1969 in full for the first time on screen. 
For casual viewers of the documentary series, the opening minutes show a potted history of the band up to 1969. The first glimpse of music coming together is during the writing of I've Got A Feeling. It feels almost intrusive that we're able to see the formations of songs that will become iconic. There's a similar feeling while watching Paul McCartney seemingly have an out-of-body experience for the best part of a minute while writing the band's next single, Get Back. 
Through the early part of this documentary there's a narrative of the lads collectively not liking that they're being filmed and having their conversations recorded. It is repetitive but shows that the Fab Four don't disagree and argue about everything.
It's really fun to see all four of them jamming together and playing their old favourites. They're just not taking life seriously at all. There's a realistion that they're still so young; barely past their mid-20s.
Everything isn't harmonious and rosy, it must be said. Let It Be is arguably McCartney's finest composition so to see Lennon deliberating what the one-off Beatles live performance should look like while Paul is creating a masterpiece over the piano is a hard watch.
Harrison's songwriting was famously overlooked by John and Paul and this series shows that. There are moments when the quiet Beatle is seen putting together All Things Must Pass – the song which would become the titular track of his debut solo album released just 18 months later. The rest of the band are dismissive and unwilling to help out. The same happens when he's showing Paul I Me Mine. It's hardly surprising to see him utter: "Well, I think I'll be leaving the band now" at the end of part one. It's even less surprising to see Lennon's lack of care moments later: "If he doesn't come back by Tuesday we get [Eric] Clapton." Harrison came back just days later, thankfully. 
Harrison's return coincided with the arrival of Billy Preston who single-handedly breathed new life into the recording sessions. It was a miracle that saw the songs that would eventually end up on the Let It Be album get recorded. The endless supplies of tea and toast might also have contributed to the creative masterstrokes too. It's hard to say.
The whole documentary showcases the band's ability to have a carefree, goofy, but equally professional time in the studio together. If you're able to get past the fact that the eight-hour epic is mainly centered around men sitting in rooms writing songs, Get Back ticks all the right boxes. What Peter Jackson has done with Get Back is manage to quash the sour tale of The Beatles breaking up and instead tell a glorious story of creative brilliance and blossoming friendships.
---