The Hedgehog Blog – A prickly subject
Written by Phoebe Speed on 30th November 2021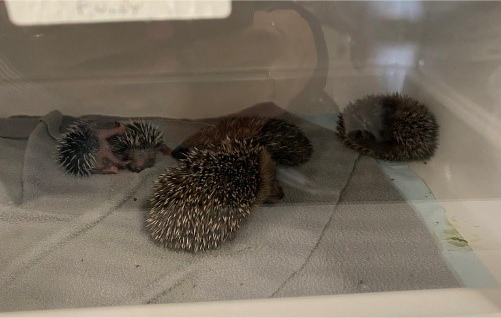 Mrs Tiggy-Winkle, Sonic, Mr Pricklepants, Alice in Wonderland's croquet ball… all these iconic hedgehog characters!
Yet, despite their popularity, hedgehogs in Britain are in decline. The numbers of hedgehogs have fallen by up to 30% in urban areas and 50% in rural areas since the millennium.
But here at the University of Sunderland, we are committed to doing all we can to help the hogs. The Hedgehog Friendly Campus program was introduced to UoS and led by former student, Charlotte Riley. Through her excitement for animals and her drive to make a positive change, the University achieved a bronze certification and is recognised as a Hedgehog Friendly Campus.
Charlotte, having now graduated, has left a team of like-minded volunteers who are keen to carry on making our University a hedgehog friendly space.
Which is where I come in! My name is Phoebe, and I am a first-year Primary Education student. I have a lifelong love of hedgehogs thanks to my childhood spent in rural Northumberland.
Hedgehogs in the garden was a common occurrence! This year, I have spent my free time volunteering at the Northumbrian Hedgehog Rescue in Longframlington. Even with room for around 150 hogs, there's never much room at the inn to spare. As a self-proclaimed hedgehog mega-fan, it can be very emotional to see the state of some of the spikey souls that are brought in.
Having firsthand experience with hedgehogs in need has shown me just how important a scheme like this is. I'm so pleased to be a new member of the fantastic team that Charlotte established. I'm beyond excited to work alongside them to make the University of Sunderland a hedgehog friendly campus for the foreseeable future.
We are currently in the final stages of renewing our bronze award for 2021/22. Come the new year, look out for our very own University Society, Instagram account and regular hedgehog blog posts!
Q. How does a hedgehog play leapfrog?
Very carefully.
Have we spiked your interest? No prior experience is needed, just an enthusiasm for wildlife and making a difference. Contact Phoebe at bh95jr@student.sunderland for more information.
---