"I'm the first person to play Waves" – This Little Bird review
Written by Eve Bell on 11th November 2021
The first Waves festival took place in Sunderland across five music venues in the city centre. The event saw a whole host of musical performances from a range of genres, with the idea of showcasing local talent at its heart.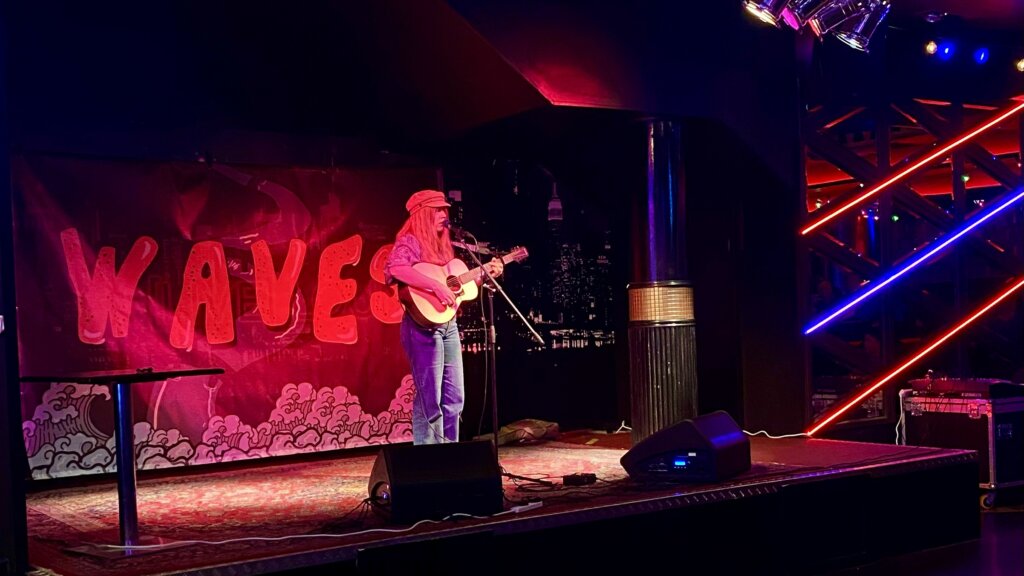 The events were kickstarted at the Live Lounge and saw This Little Bird, also known as Rebecca Young, open the festival, excitedly telling the crowd gathered around the small stage. Rebecca Young said: "I'm the first person to play Waves."
For those who have never heard of This Little Bird or listened to any of her music, she says that her sound is mainly inspired by '70s female singer-songwriter vibes' such as Joni Mitchell, Carly Simon and Kate Bush – all of whom are some of her biggest musical influences.
The Sunderland-based singer stood on the stage with minimal lighting, a vintage rug and only her guitar. To some, this might sound bare, but she easily held the room for her entire set as she worked her way through nine of her original songs.
She opened her set with some slower songs titled Tattoo, Anemone, and Siren Song, all of which made her song writing talent obvious from the get-go. The crowd ate up the little meanings and inspirations that she gave us between each song which helped her create a warm environment, marking her as a likeable performer who wasn't afraid to interact with the room.
Her talents were best showcased in the songs Romance is not Dead and Sloe Berries which feature more upbeat instrumentals and clever writing. This diversified her set, showing that she can also step away from the soft folky sound she had previously shared with us.
The closing song Burn Bright was a personal favourite, with lyrics like: "we are the lamplight down in the mine, and we'll burn bright this time." This song is a love letter to the North East, encouraging listeners to be prideful of their origins whilst criticising the lack of opportunity in the North compared to the South of England.
When asked about the importance of Waves, Rebecca reflected on her past gigs and picked out a previous music event that took place in Sunderland. Rebecca said: "I did two sets, one of them was in Pandora, and then one of them was in Plugged-in later on." The lack of musical opportunity in Sunderland when she first started makes Waves that much sweeter.
As a mentor for young songwriters through the Young Musicians Project, she's happy that opportunity in the area for young talent is finally increasing. She said: "It's amazing, I feel like for so long people just go to Newcastle for gigs, especially at the minute there's so much up-and-coming young talent in Sunderland, and people need to hear them."
Rebecca also stressed the importance of supporting the rising female talent in the North East after reflecting on her experience being the only girl at rock band project's when she was 12. She was one of three women who used to gig in the area when she started around ten years ago.
With the end of the year nearing, we are all desperate to know what everyone's Spotify Wrapped will look like. Rebecca predicted that hers will feature lots of Avril Lavigne and Phoebe Bridgers – she is a lady with taste.
She told me that she was currently working on some new music and to expect releases in the next six months. In the meantime, you can find her on Soundcloud under This Little Bird, and she also has a playlist of original songs on YouTube under the same name.
---