Spark wins Six Awards at Student Radio Awards
Spark volunteers have won six awards at the Student Radio Awards (SRAs) on Tuesday 14 at the O2 in London.
The annual awards ceremony highlights the talent that student radio has to offer with volunteers and industry professionals alike coming together to celebrate their achievements.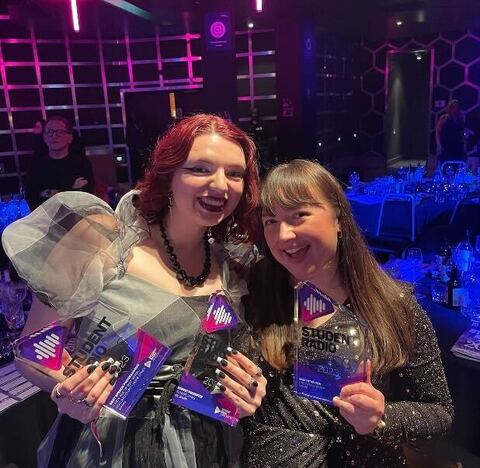 The station brings home to Sunderland:
GOLD – Best Presenter – Hope Lynes

GOLD – Best Speech Programming – Hope Lynes

GOLD – Best Interview – GRL (Grace McDonough, Roisin Zerhouni and Lottie Steele)

SILVER – Best Podcast Programming – Chrissy Cameron

SILVER – Best Entertainment Programming – Tyler Selby

BRONZE – Best Producer – Jake Chappell
Richard Berry, station manager and lecturer at the University of Sunderland, said: "This is another great night for the Spark team, and especially for those who picked up awards."
He added: "Our aim with Spark is to give volunteers the space to try out ideas and develop their craft.
"These awards (and the nominations before them) are a testament to the hard work everyone puts into running the station."
Spark struck gold, winning three of the top awards with two of them snatched up by Hope Lynes. On X (formerly Twitter) she said:
A crazy night last night that i'm still processing!! I won Best Presenter at The Student Radio Awards😭😨 My documentary also won Best Speech Programming❤️ After four years in Student Radio this really is a full circle moment! Thank you so much to everyone who has supported me🫶🏻 https://t.co/SswO1o9x4J

— hope ❤️‍🔥 (@hopelynes) November 15, 2023
But Hope wasn't the only one who won gold.
Grace McDonough, co-host of GRL, said: 'Winning this award is the cherry on top of the cake that was doing this show for a year.
"The chat we had with Sotonye [West] is the very essence of what GRL was all about; having open, honest conversations on the radio about topics that are often deemed taboo but in a safe, non-judgmental space."
She added: "It means the world for the conversation and the show to be recognised in this way."
The SRAs have had a massive impact at the University of Sunderland, with many praising the hard work students have done to make these results possible.
Lee Hall, Head of the School of Media and Communications at the university, said: "We never take for granted that Sparkies have once again been recognised on the national stage for their excellence."
"So much hard work goes in – from students, volunteers, academics and technical staff – to make Spark a success. It's such a rewarding project because Spark is a great environment to learn your craft and work with people from diverse backgrounds."
He added: "Spark is renowned as a key part of the talent pipeline into media roles and we are so proud of our students and their achievements."
Students can also look forward to the Student Radio Awards Convention (SRACon) that will be held next year in April in Leeds which was announced at the awards.
GUESS WHAT! LEEDS WE'RE COMING FOR YOU see you in April 🫡#SRAs @ThisIsLSR pic.twitter.com/e3jtxPodbY

— Student Radio Association (@SRA) November 14, 2023
Here students will be able to meet industry professionals and spend four days honing their craft to bring back to their stations.
Follow us @SparkSunderland to keep up to date with all things Spark.
---