Spark staff and alumni celebrate the station's 14th Birthday
Spark is celebrating its fourteenth birthday on October 26.
Over the years, the station has brought listeners from all around Sunderland (and beyond) thousands of shows, plenty of presenters and so many stories that shape our city.
The award-winning station has always strived for excellence over its fourteen years and will continue to for many more.
The staff here have taken a moment to reflect on the impact that this birthday has for them.
Richard Berry, station manager, said: "It's strange to think that we've been doing this for so long. It feels like Spark has always been here and it's always been a part of University life.
"For some people, that's led to amazing careers in radio, and for others, it's been an incredible experience that's built friendships, relationships, and life skills."
He added: "Spark is, and always has been about the people in the team and the community they have built around it and that's a very good thing to see.
"The future feels really positive right now. We have a great team in place, and students are still coming forward to ask about joining."
Spark is looking to the future as it hopes to be part of bringing more digital services to the area to get more people tuning in.
Grace McDonough, the current Spark intern, said: "Getting involved with Spark and pursuing my passion for Radio is the best thing I've ever done.
View this post on Instagram
"The University of Sunderland describes itself as a life-changing university and being involved with Spark has definitely proven that to be true for me."
But it's not just staff that have shared in the celebration.
Spark alumni from all across the country have taken a moment to reflect on the impact that the station has had on their careers and lives.
Emma Millen, BBC Newcastle Presenter, who was on the station between 2016-21, said: "Without Spark, I wouldn't be where I am today. I got to learn all the basics and all the technicals and all the stuff I wouldn't necessarily learn on a university degree."
She added: "I think it's pure class and if you're wanting to start in radio or in anything at all that's creative, gan do some Spark."
Calum Hider, Executive Producer of Capital Breakfast, who was on Spark between 2009-12, said: "Spark kickstarted the dream so I can now live it every day!"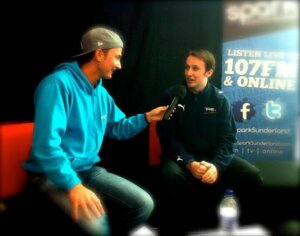 Dom Stirling, Producer at BBC Radio 1, who was here between 2012-15, said: "Without Spark, it would not have the career I do today, I had no idea radio would be a thing for me, and joined the station for a bit of fun.
"And whilst I was fun, it also gave me a broad range of skills, experiences, and contacts, to help me launch a career, and also meet some of my best mates."
Thank you for all your continued support!
---