Non-league footballer receives testimonial after record service to local club
Written by Adam Tones on 27th April 2023
Whickham Football Club will honour club captain and record appearance maker Ross Peareth with a testimonial in recognition of the midfielder's commitment to his hometown club.
The match will be held at The Glebe on Rose Avenue in Whickham on Sunday, April 30. The event will see Whickham's current squad go head-to-head with Peareth's All-Star team featuring a host of former teammates.
Peareth signed for the Lang Jacks as a fresh-faced 18-year-old in 2009 and has since made an impressive 380 appearances, which is a club and league record, scoring 24 goals over a playing career spanning 14 years.
He has been an ever-present since making his Lang Jacks debut on August 11, 2009, in a 1-0 victory over Hebburn Town. Under Peareth's captaincy, the club secured promotion to Northern League Division One in 2018 and finished seventh this campaign, their highest-ever league position.
When asked about memories that live long in the memory, the midfielder was not short of options when reflecting on his time with the club.
Peareth said: "I'm proud of the achievement, I probably could have had more if it wasn't for injuries but it's definitely a proud moment going down in the history of the club for most appearances.
"My last-minute winning goal in the FA Vase against Brighouse Town would be the one, I still talk about it now. In terms of a club achievement, it would be getting promoted to the First Division a few years ago."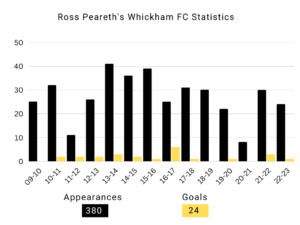 Whickham chairman Ross Gregory praised the 32-year-old's dedication and acknowledged the impact Peareth has had on the club.
"He's been a fantastic servant to the club for more than a decade, I remember him signing as a teenager and I have no doubt at all he could have moved on to other clubs and higher up the football ladder.
"He's been loyal and a key part of the changing rooms for several years. You don't get many players like Ross who stay at the same club their whole career, you have to take your hat off to him," Gregory added.
Peareth plans to continue playing for another season but admits it could be his last in the black and white stripes.
Funds raised from the event will be donated to the Alzheimer's Society a charity close to his family's heart.
---