Sunderland fans encouraged to share their memorabilia from 1973 FA Cup win for new project
Written by Callum Jacques on 13th April 2023
A picture book showcasing Sunderland fans memorabilia from their 1973 triumph is set to be published into a book by the end of the year.
Photographer Julian Germain is heading the project and has been holding exhibitions in and around Sunderland for fans to come and see what items have already been donated or to donate items of their own.
Germain said: "We're very interested in scrap books that people made. It's about all those momentos and memories that people kept. The project is called Sunderland and '73: The People's History, so it's very much about things you can look at, its especially about things that people were inspired to make themselves scrapbooks, banners, scarves.
"The plan is to publish a book at the end of this year, which will very much be a picture book. So we're asking people to look, maybe they've got stuff in a draw somewhere in a bathroom upstairs or a box in the loft and another thing is photographs, did you have a Kodak instamatic camera, did you get a picture, is there a picture of you gathered around the telly to watch the match or is there a picture of you on the way to the semi-final or the final."
Germain has been working on the project in collaboration with the University of Sunderland, A Love Supreme fanzine, and the Foundation of Light with support from The National Lottery Heritage Fund.
Paul Dobson of A Love Supreme, said: "Have a look in the loft, if it's been there for years since your parents left or your brother left, or your sister left go and have a look. If there's a shoebox with 1973 wrote on it have a look inside because it is genuinely interesting to see all the stuff that comes out."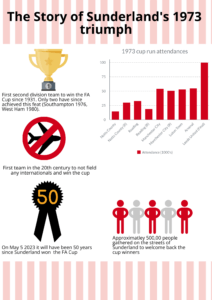 Fans who want to donate their items to the project can do so by attending one of the upcoming drop-in events or by emailing nepn@sunderland.ac.uk  or info@a-love-supreme.com.
The next drop-in event takes place on Friday April 14. 11am-3pm at Back on the map, 67 Toward Road, Hendon, Sunderland SR2 8JG.
Then the following day Germain will be taking his exhibition to the Beacon of Light prior to Sunderland taking on Birmingham City at the Stadium of Light from 12.30-3pm.
---