New END/FUTURE Climate Programme launches at Tyneside Cinema
Written by Eve Percy on 13th March 2023
Throughout March 9 to 26, Tyneside Cinema are starting a new annual programme called END/FUTURE, exploring the future of civilisation through film, technology and discussion.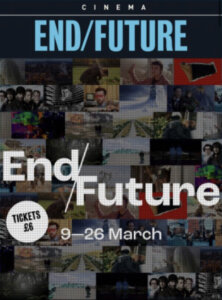 Photo Credit: Tyneside Cinema
This is their story of how film imagines the collective future. END/FUTURE wants to present the power of cinema to imagine the future of civilisation.
Over the duration of March, END/FUTURE have split their distinct sections into three. These will feature live events, screenings and discussions over each long weekend (Thursday until Sunday) for three weeks. Film tickets are £6 with free events throughout the programme.
Climate Action Newcastle Campaigner, Olwyn Hocking, said: "It was great to see the Tyneside Cinema raising the profile" and "highlighting all the artistic contribution to the process of how to understand and act on climate change."
'Part 1: Tipping Point – Life in a Time of Crisis' will kick off on March 9 and finish on March 12. This section will focus on the impact of climate change on the North East to the uncertainty of the unpleasant future of the climate collapse. It will also heavily cover the impact of technology and the anxiety of what the future holds for our planet following climate change.
'Part 2: Imagined Futures – Cinema vs The End of the World', starting March 16 to March 19, covers how cinema forces the end of civilisation from a realistic and utopian perspective. They will show Hollywood disaster movies , climate dystopias to post-nuclear landscapes.
'Part 3: Guide to Saving the World', which will take place on the last long weekend of the programme, March 23 to 26. From environmental technology to salvation through change in political power and much more, 'Part 3' will explore how film imagines our collective future.
During each long weekend, on each day they will hold events such as Q+A's, films, VR experiences, events and artist commissions.
Patrick Newton, Programme Assistant at Tyneside Cinema, said: "We believe this climate-conscious programme will offer audiences an incredibly inspiring and unique experience.
He also said: "We really believe in the power of cinema to enact change" and hope "we can help reflect on the possibility of environmental change across the North East."
---