Star Studded Bradley Lowery Foundation Charity Match Scheduled For May
Written by Josh Edwards on 6th March 2023
A charity football game will go ahead on May 8 in aid of the Bradley Lowery Foundation.
A number of well decorated celebrities are set to play their part in supporting the charity.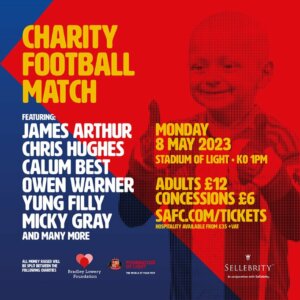 Bradley Lowery was just six-years-old when he devastatingly lost his battle to neuroblastoma cancer but the bravery he showed throughout, touched the heart of the nation.
The young Sunderland supporter inspired people all around the world and his overwhelming positivity each day led to fundraisers in his memory.
The Bradley Lowery Foundation was established in 2017 and has raised millions since to assist with childhood cancer treatment.
Lynn Murphy, Co-Founder and Head of Communication and Fundraising at the Bradley Lowery Foundation said: "The event will bring in much needed funds that we lost during the Covid-19 pandemic. Not just for the foundation but also for the causes we run such as the holiday home, support line and Nice to be Nice campaign."
A number of celebrities have already been named in the line-up for the game with James Arthur, Chris Hughes, Micky Gray and recently crowned Queen of the Jungle Jill Scott all announced, with some still to be revealed.
On the inclusion of Jill Scott, Lynn expressed: "Having Jill is amazing, she has SAFC in her blood and is really looking forward to taking part."
The BLF have chosen the Foundation of Light to be the second charity involved with the event.
Lynn said: "They do so many amazing things in the local community with youth football and they also struggled financially during the pandemic. To be able to help another charity as well as our own really does make a huge difference."
Sellebrity Soccer are supporting the game and have been responsible for numerous charity football games across the country.
Tickets for the charity match to be played at the Stadium of Light at 1pm on May 8 are on sale now, and are priced £12 for adults and £6 for concessions.
---