1973: THE PEOPLE'S HISTORY
Lifelong Sunderland fans will be able to submit their 1973 FA Cup memorabilia to be used in an upcoming book, marking 50 years since Sunderland won the cup.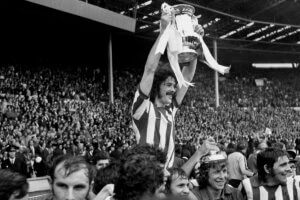 Photographer and football fan Julian Germain has been commissioned to produce a book, along with visual material such as photographs, to reflect upon the experiences of supporters during the Bob Stokoe era.
Fans' scrapbooks are at the heart of Julian's project, and he is inviting people to a series of upcoming events to bring along any memorabilia. The pictures and objects will be scanned in to be added to the book.
Julian said: "Maybe you have a photo of yourself, or your mates, or your mum or grandad, during that cup run; perhaps at Wembley for the final or maybe at Reading for the 4th Round replay, or on one of the 200 coaches that travelled to Hillsborough for the semi-final v Arsenal. Or it might have been a gathering at a neighbour's house to watch the final on their new colour telly? There might be a child's painting of the trophy or of a Sunderland shirt, or perhaps you made one of the hundreds of home-made flags, banners or rosettes that were made to celebrate the occasion?"
The project team's first collection event is on Saturday March 18 from 12.30pm at the Beacon of Light. The team have joined forces with the likes of the University of Sunderland, Foundation of Light and A Love Supreme to produce the book, with the project being supported by the National Lottery Heritage Fund.
A Love Supreme Co-editor Sobs said: "The book is a great idea for people from my generation, who remember the final 50 years ago. Of course, the younger fans hear so many stories about '73. But Julian's project is the perfect way to bring those stories to life. I've already submitted some old photos and I'd strongly encourage others to do the same."
For more information, you can email ALS at info@a-love-supreme.com and include your name and phone number.
---