Liz Truss resigns from office: Your say
Written by Godstime David on 22nd October 2022
In just 44 days after taking office, Liz Truss has resigned as Prime Minister and leader of the Conservative Party.
In an address outside Downing Street, Ms Truss said she could not deliver the mandate on which she was elected.
Liz Truss is the shortest-serving Prime Minister in the UK.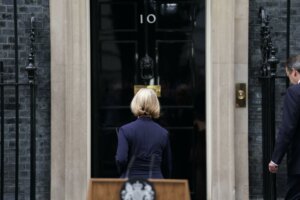 In a statement read outside Downing Street, said: "I came into office at a time of great economic and international instability."
City of Durham MP Mary Kelly Foy said: "Liz Truss may be gone but the carousel of Conservative chaos has not departed Downing Street. The Tory Party inflicted Liz Truss upon this country and ordinary working people are now poorer as a consequence.
"Those who crashed the economy cannot be trusted to clean up the mess. So much has changed since 2019 that Conservative continuity is not an option."
"The British people must decide – we must have a general election." the MP added.
43-year-old retail manager Paul Marsh said: "I am happy she is gone, but to be perfectly honest nothing is going to change until the general election, and we know that is not going to happen anytime soon".
John Charles, 47, said he was not entirely surprised.
"Whatever happens now will not be a good outcome for either the Tory Party or for the UK generally.
"On paper, Labour would be a better fit, but to be fair it will take something really special to turn things around," the salesman added.
A new leader is set to be announced this week.
What are your thoughts on Liz Truss' resignation? Let us know @SparkSunderland
---