A night of glamour and despair: Moulin Rouge review
Written by Bethany Jones on 21st January 2022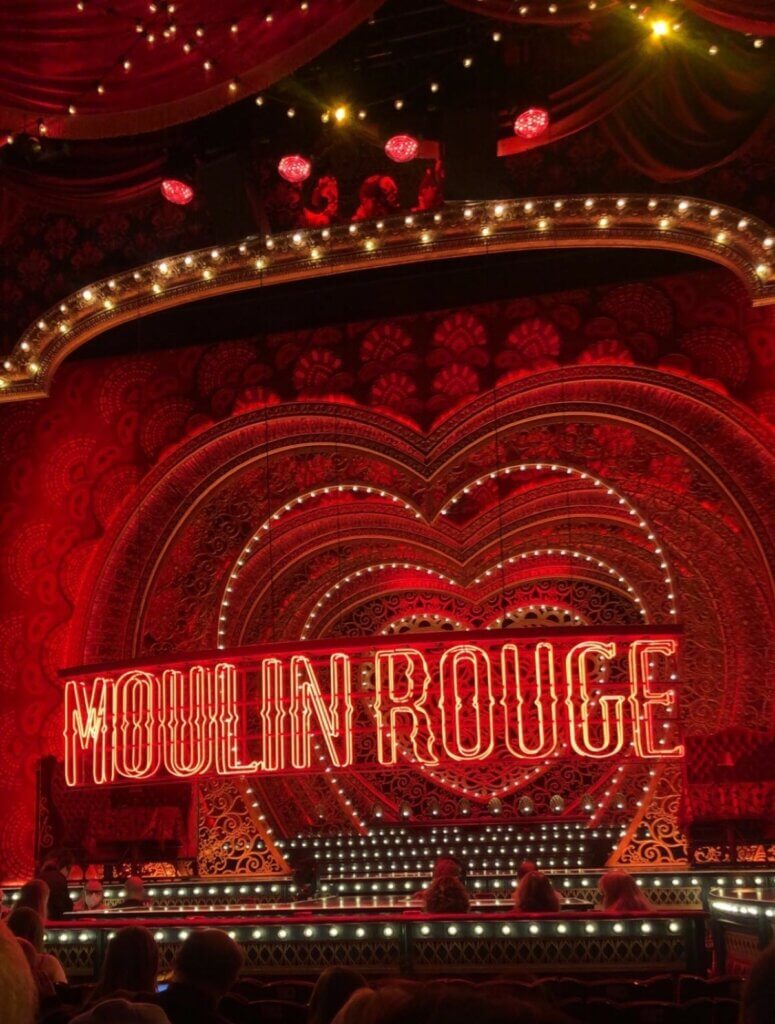 After its opening night was postponed due to Covid-19, Moulin Rouge returns to the Piccadilly Theatre in London until May 2022 to provide a show packed with truth, beauty, freedom and above all, love.
Based on the 2001 motion picture written by Baz Luhrmann, Moulin Rouge tells the story of a French club, run by Harold Zidler (Clive Carter), struggling to remain open. The star of the show, Satine (Liisi LaFontaine) falls for Christian (Jamie Bogyo), a passionate composer while being claimed as a possession by a ruthless duke (Simon Bailey.) Every character is forced to evaluate the lengths that they would go to for what they desire, making it a production that showcases strength, passion and also foolishness.
This musical is a twisted romance at its best, ladened with light comedy at just the right moments. The members of the Bohemian Revolution – portrayed by Jason Pennycooke and Elia Lo Tauro – sprinkle innuendos, folly and slapstick throughout the show that has the audience laughing from the very beginning.
The stunning choreography by Sonya Tayeh partnered with the cast's sheer talent and enthusiasm creates electricity on the stage. With numbers such as 'Lady Marmalade' and 'The Pitch', the cast uses the staging to their advantage to perform high-energy performances filled with excitement and entertainment. Even the more heart-wrenching dances, such as 'El Tango De Roxanne', are flawlessly delivered with the intense lighting and Argentinian tangos creating mesmerising scenes.
With modern numbers such as Katy Perry's 'Firework' and Adele's 'Rolling In The Deep', Moulin Rouge merges the decades through powerful medleys and breath-taking vocals. The featured number 'Backstage Romance' – a combination of Lady Gaga's 'Bad Romance', Britney Spears and Eurythmics – makes seemingly dissimilar songs fit together to create perfect harmonies and an even more impressive atmosphere.
The individuals within this cast are extremely well-suited to their roles, with Clive Carter (Harold Zidler) providing a refreshing alternative to the otherwise young cast. His iconic contribution to the performance of 'Welcome to the Moulin Rouge!' instantly kickstarts the show and, the audience is more than happy to support the noise. Accompanying him is Liisi LaFontaine who plays the part of Satine so naturally, from being a confident diva to a vulnerable victim of the underworld, she conveys every emotion to perfection. Her stellar performance of 'Diamonds are Forever' hits every note and stuns the room into silence; a true moment to note. And although a much less brazen character, Jamie Bogyo brings Christian to life. His duets with Liisi Fontaine in numbers such as 'Come What May' and 'Elephant Love Medley' bring unity to the stage and allow the story to unfold.
Moulin Rouge is the perfect mix of glamour and despair and it's clear from the first note that the show must go on.
---