Beacon of Light to hold community job fair event
Written by Adam Tones on 14th January 2022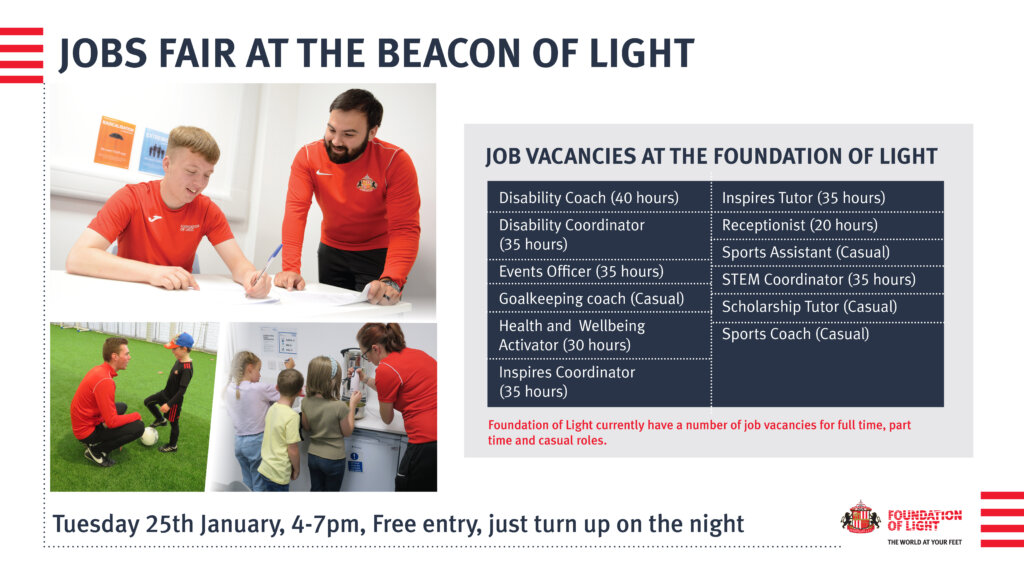 The Beacon of Light in Sunderland will be holding a job fair event on January 26, 2022 from 4pm until 7pm. 
The job fair will give many people within the community the opportunity to speak with a wide range of potential employers from across the region.
The fair will offer a great opportunity to discuss various roles with a range of businesses. 
The event will allow individuals the chance to ask questions and gain an understanding of the job vacancies currently available. 
Sunderland Football Club, The Foundation of Light and University of Sunderland will be three of the many businesses offering inside knowledge of their available positions. 
The event is being hosted at the Beacon of Light, a community hub that offers opportunities to all ages and abilities. 
The Beacon provides top of the range sporting facilities both indoor and outdoor, including a 4G indoor rooftop barn, one of the best artificial pitches in the North East. 
The building also offers educational and wellbeing resources with many rooms rented or owned by a number of different companies offering a range of educational classes.
The Beacon holds a seating capacity of 3,500 people, providing businesses with the opportunity of hosting their own functions, dinners or corporate events. 
The building has hosted a number of events both pre- and post-pandemic since it officially opened four years ago. 
Martin Jones, facility coordinator at the Beacon of Light, said: "As well as sports and education facilities for the general public we also offer diverse and flexible events and meeting spaces. 
"This year our showcase events include the Foundation of Light's 20th birthday Gala Dinner, attended by HRH The Countess of Wessex, and the Northeast Automotive Alliance annual exhibition which saw over 150 stands and nearly 300 attendees."
The building has been designed for multipurpose use to support and accommodate both sporting and non-sporting events.
Martin added: "We are a vibrant community hub like no other. A space for sport, events, education, and wellbeing which is open to everyone of all ages and backgrounds.
"Our aim is to simply create better opportunities and support the community to live better and healthier lives.
"All proceeds from the Beacon of Light are donated back to the Sunderland AFC's official charity, Foundation of Light, to support communities across Sunderland, South Tyneside and County Durham to be the best they can be."
---