STUDENT FUNDRAISERS GATHER £4000 FOR EARTHQUAKE VICTIMS
Written by Liam Charlton on 13th March 2023
Students at the University of Sunderland have successfully raised £4080 for earthquake victims of Turkey and Syria. 
The money was raised over two events hosted by the Sunderland Islamic Society (ISOC) at the University's CitySpace in February and March.  
A Cup of Kindness was the latest event held on March 3, and managed to raise £832 by selling chai drinks and hot chocolate.
Zara Bashir, President of Sunderland ISOC, said: "We are selling a range of drinks, we have chai, hot chocolate, and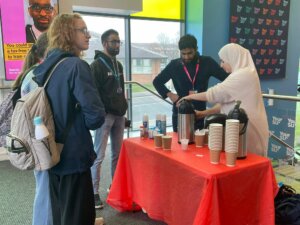 falooda – which is a Pakistani Eid dessert drink, and some mocktails.
We have had students here at CitySpace, about 50 plus people served here and now we moved to the university musjid to continue the fundraiser there."
The event was hosted by the ISOC and had help from volunteers from outside the university between 12 and 1pm.
Hanan Fischer who was volunteering to help at the sale said: "I think today has gone well, all the hot chocolate has sold out so that must mean something.
We are now moving on to the mosque. There will be Friday prayers and lots of people inshallah, and after the prayers, we will set out our drinks and hopefully sell some more."
This is the second event hosted by the student society in response to the earthquakes that devastated communities across Turkey and Syria.
A spokesperson for the
ISOC said: "Following the devastating earthquakes in Türkiye and Syria with a now 17,000 death toll and countless buildings destroyed, this has left a horrific aftermath on the ground with hundreds of thousands in dire need of essential supplies, medical supplies, food, blankets, and heating materials. 
Upon hearing this, our Islamic society immediately began organising fundraising events to aid the international emergency appeals as much as we could."
The money raised by the A Cup of Kindness event will be added to the £3247 raised by the student society with a bake sale on February 10.
All the money raised will be donated to the victims of the earthquakes that devastated Turkey and Syria on February 6. 
To date, there have been 55,700 people killed in the earthquake. Almost 49,000 victims in Turkey and a further 7,000 in Syria.
---