Sunderland software developer who turned to boxing to combat lockdown boredom
Written by Luke Taylor on 6th May 2022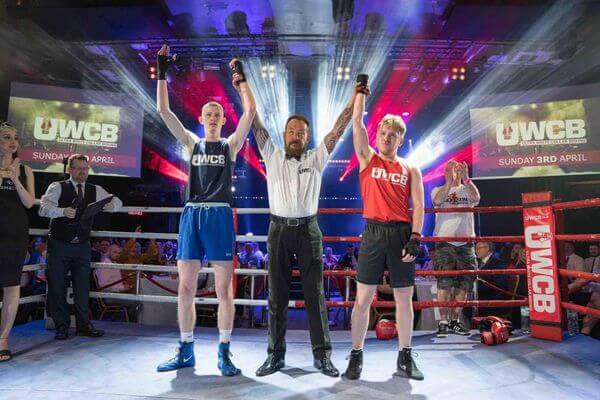 Boxing is a lonely sport that requires hard work and dedication just to be punched in the face, and it takes a particular type of individual to do so. Meet the software developer who fancied the challenge.
Many people see the big events when boxers such as Tyson Fury and Katie Taylor win all the titles but they never see the hours of blood, sweat and tears that go into making them champions.
Professional boxers who fight for money are seen as warriors. So, what does that say about a novice fighting for charity and one that got in between the ropes and went the distance against a bigger fighter?
Brendan Straughan, a 22-year-old software developer; motivated by the bore of lockdown, decided he would train for a boxing match.
Straughan said: "I got motivated to do it during lockdown when I was bored, and had little to do.
"I was not enjoying my job. I wanted a new challenge. I wanted something that would be big and would excite me."
While Brendan had not competed or trained in any combat sport before, he was a sporty person who had a passion for football throughout his school years.
However, combat sports and training were foreign to Brendan and would take some getting used too.
He added: "I have never done anything like it before I'm not a violent person, but it was something that intrigued me. The work and commitment needed is appealing.
"I got eight weeks of free boxing training, which is what I used to brush up on my technique, but before that, I was going to the gym and running a lot anyway, so I wasn't worried about my fitness.
"I was training four to five times a week. It was a mix of boxing training, gym and running. The boxing training was new, and although it was hard, It was enjoyable learning something new."
It wasn't all sunshine and rainbows for the software developer, who had struggles in training that would lead to a lot of blood from the nose.
This would make him question whether it was the right choice, but he stuck through it and persevered.
Brendan said: "My nose kept on popping every session and pouring of blood, which wasn't ideal."
"I felt as though people were better than me, and I'm not going to lie it was starting to get to me. It was hard, especially with my nose being really sensitive.
"Since I'd told everyone I was doing it and raising money for charity it wasn't a choice to give up and not do it so I stuck at it, and I'm glad I did.
"I trained at spartan martial arts gym in Sunderland and it was a good environment to learn in, I felt comfortable.
"I was trained mainly by myself, which meant that I was the person that had to keep myself motivated, which was hard but it mirrors what it's like in the ring, so it trains the mind. My friends and family were also encouraging me at points, so that was always helpful." 
After hours of training and countless nose bleeds, the fight was finally upon Brendan, who was about to step in between the ropes for the first time. The question was, how would he handle it?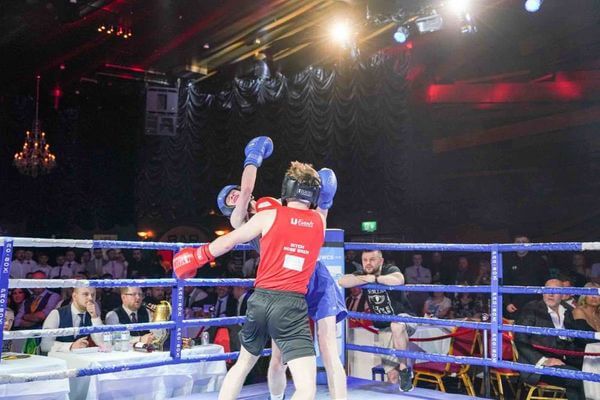 He said: "I was very nervous but excited. I'd trained quite a lot, so I felt I had done everything I could do to prepare for the fight.
"When I saw everybody that had come, it made me even more nervous but even more excited to get in the ring."
With the ring walks done, there is nobody to help Brendan remember his training, it's just him and the man across from him. All the training, came down to three rounds.
He added: "It's crazy how much you zone out from everybody and everything, it's just you and him.
"The adrenaline as well sort of gives you anaesthetic to the pain of the punches, I could feel them, but my foot was on the pedal the whole fight.
"I think I did well. I did get a shoulder impingement halfway through the second round and could barely use my right arm but I managed to keep going. It was just pure adrenaline."
Boxing was a challenge and something to excite Straughan. With many stumbling blocks that could ruin the experience, you must wonder whether it was fulfilling.
"I was ill on the day so I'm happy I did it. There are things I definitely would have done differently in hindsight but I am aware that it is not as easy as that at the moment.
"The whole thing was exactly what I wanted, something excited. Not sure I would do it again however, I want to try other new challenges now. I'll leave the boxing to the professionals."
Straughan's friend, Niall Miller, was there to see his friend fight and told of the difference it has made.
He said: "It was a gradual thing (training). You could see it was a slow start to things, but once he got into it, the fight date was all he would look forward to.
"I admired his work ethic. There was times you could tell he wanted to pack it in but when you are going to fight it's about determination."
After seeing someone go through eight weeks of hard work, it must be challenging to watch them fight and not have any ability to do anything.
Niall added: "I think I was more nervous than him on the night, to be honest. It's unlike anything, I've watched a lot of boxing but it's nothing compared to when it's a friend who is stepping through the ropes.
"It was clear on the night that he put the work in he was fighting a bigger lad as well. He stood his ground and give as good as he got and at the end of the day raised money for charity."
---